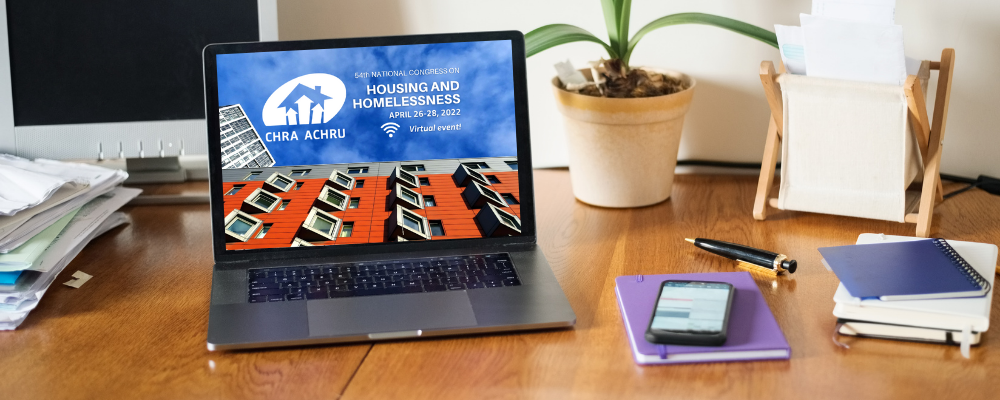 What to expect at the 2022 CHRA National Congress
The 54th Annual CHRA Congress is less than three weeks away! The past several weeks have flown by for the CHRA team as we put the finishing touches on the Congress program and get ready to welcome you to our virtual Congress environment. Read on to see why this year's Congress is a must-attend event!
Learn about need-to-know topics and case studies from sector leaders
Our Congress and Pre-Congress programming will showcase new developments and case studies from across the country and dive into essential topics for housing and homelessness professionals.
Sector Innovations
Innovation Forum: April 26. Get ready to think outside the box with a full day of sessions that will get you thinking creatively about housing and how it relates to the wider community. Join this event to learn about cutting-edge topics including commercial-to-residential conversions, using the concept of 'gentle density' to build vibrant, inclusive communities, and hear from Indigenous housing providers who are providing safe, culturally appropriate housing and services for their community.
Housing Journeys Reimagined. Learn about how this initiative, funded by CMHC through the National Housing Strategy's Solutions Lab program, is exploring a new housing journey that challenges the traditional pathway along the housing continuum.
An Era of Transformation: Growing the capacity of Canada's housing sector. Join speakers from three organizations that have successfully undertaken different transformative capacity-building projects related to social enterprise models, mergers, and workforce engagement.
Responding to the COVID-19 Pandemic: Sector-led initiatives for sector-led solutions. Hear housing sector leaders share learnings and best practices from their initiatives to create partnerships between the housing and homelessness sectors, address housing stability challenges, and increase access to non-profit housing for those in need.
Community-based solutions
Hey Neighbour Collective: Building community and connectedness in multi-unit housing. Join this session to learn about the Hey Neighbour Collective - a BC-based initiative made up of housing operators, non-profit agencies, municipalities, researchers, and others working with residents to build social connectedness, resilience, and mutual aid capacity in multi-unit housing communities.
Fighting NIMBYism: Tools and success stories. Learn about BC Housing's award-winning resource Community Benefits of Supportive Housing and how it's being used by non-profit housing providers, planning and development consultants, non-profit housing funders, and other stakeholders to proactively build community acceptance for non-market housing.
The Oasis Project: Cross-sectoral partnerships for adults to age-in-place. As Canada's population ages, community-based housing solutions for older adults are urgently needed. Learn about Oasis - a program driven by older adults and supported by collaborations between property management companies, health or social service agencies, community service providers, and residents that helps older adults to age in place, safely and independently.
Indigenous-led content
Indigenous Caucus Day. On April 25, members of the CHRA Indigenous Caucus will meet to learn, network, and inform the direction of the Caucus through the upcoming year. This network is open to Caucus members only; if you're unsure if you're a member, please reach out to us at info@chra-achru.ca.
Building Strong Municipal/Indigenous Relationships. Join this session to learn about the City of Calgary's journey to address affordable housing, homelessness, poverty, and racism while incorporating Indigenous knowledge and worldviews, and hear about the City of Kenora's partnerships with Indigenous agencies that take a holistic approach to housing.
Indigenous Financing and Funding Programs. Join our panel of financing and funding experts as they share a wealth of knowledge about financing opportunities and funding programs that support Indigenous housing projects nationally, provincially, and regionally.
Housing and Homelessness Connections to Missing and Murdered Indigenous Women and Girls. The Missing and Murdered Indigenous Women and Girls (MMIWG) inquiry cited housing and homelessness over 200 times in its final report. Join our panel of speakers as they explore the connection between MMIWG and housing and learn about tangible actions housing providers can take to offer women-led solutions at all levels from national to local.
Provincial and Federal Indigenous Housing Strategies. Indigenous housing strategies are a top-of-mind issue for housing providers across the country. Join our panel as they discuss Indigenous-focused housing strategies from Ontario, BC and nationally.
Courses: April 25-26
Homelessness 101: This special workshop will explore the national homelessness landscape, the major factors that drive homelessness, emerging themes, and policy solutions.
Housing Policy: This course is a primer for those who have recently begun employment in the affordable housing sector and want to gain a better understanding of Canada's housing system and how it has evolved.
Building Evidence: Led by the Chartered Institute of Housing Canada, this course will open your eyes to the possibilities of using data to tell your story while diving into housing data from CMHC and Statistics Canada to better measure the impact to housing in your community.
Check out our Agenda to learn more about these sessions and to check out the rest of our amazing Congress program!
Special events
Our special events will bring attendees together throughout Congress for chances to learn, connect, and celebrate the sector.
Opening Ceremonies. Join us as we kick off the 2021 Congress! Hear from a variety of speakers including the federal Minister of Housing and Diversity and Inclusion (invited), CMHC President and CEO Romy Bowers, CHRA Board President Timothy Crooks, and Quebec City Mayor Bruno Marchand.
Newly added: LGBTQ2S+ Roundtable and Social, in partnership with the CMHC Pride Network. Earlier this year, CMHC announced the establishment of its first-ever Pride Network. This event will allow you to broaden your network and will feature a discussion led by CHRA Executive Director Jeff Morrison and a Pride Network representative on the experiences facing LGBTQ2S+ people in the community housing sector and where improvements can be made.
Keynote Address. Justin Kingsley is one of the most versatile and unique storytellers in the world.  A New York Times bestselling author, Kingsley is a strategist, creative director, filmmaker, photographer, and a former press secretary under Prime Minister Paul Martin.
CHRA Awards Presentation. The past year has been challenging for us all. In times like these, recognition and encouragement can help keep us going. Join us to honour and recognize the people and organizations who have truly gone above and beyond in community housing and homelessness sector in Canada.
Newly added: Implementing the Human Right to Adequate Housing: In Conversation with Canada's Inaugural Federal Housing Advocate. In one of her first major appearances in her new role, Canada's first-ever Federal Housing Advocate, Marie-Josée Houle, will be joining CHRA Executive Director Jeff Morrison, and Director, Programs & Strategic Initiatives, Jacob Gorenkoff, to wrap up Congress with a fireside chat on implementing the human right to adequate housing. Congress delegates will be among the first in the sector to learn about the work of the Federal Housing Advocate, and how we can collectively work towards more equitable and human rights-based housing in Canada.
Visit our Special Events page for more details.
We'd like to thank our 2022 Congress sponsors. Congress would not be possible without their generous contributions.
We can't wait to welcome you to what is sure to be an unforgettable Congress!
Visit us at chra-achru.ca/congress2022 to learn more and to register. Registration closes on April 22 so reserve your spot today!