The 2022 CHRA National Congress: A preview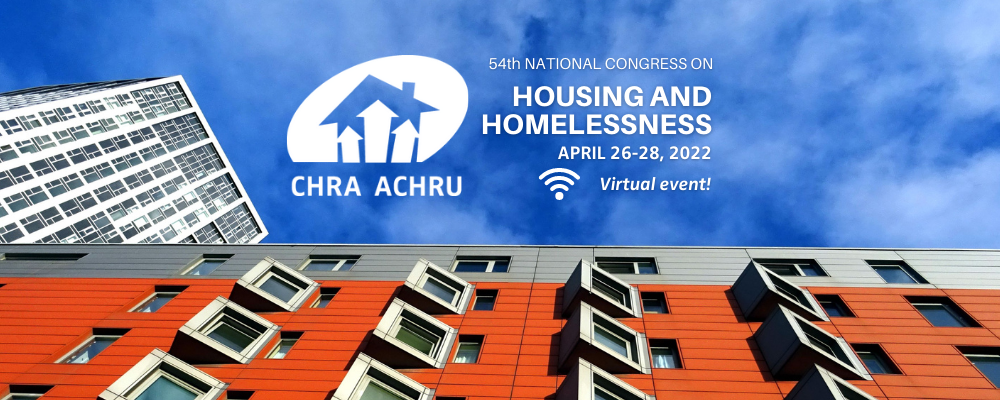 We're getting ready to host the 54th Annual CHRA Congress, April 26-28 and we're excited to welcome hundreds of housing and homelessness sector professionals to our virtual space for two full days of Congress programming and two full days of pre-Congress events and courses. Read on to learn more about what's on offer at the 2022 CHRA Congress.
Pre-Congress
Leading up to Congress, we're offering events and courses that will take a deep dive into critical issues for the housing sector.
Indigenous Caucus Day – April 25
The CHRA Indigenous Caucus represents CHRA members who self-identify as Indigenous and CHRA members who understand and whose work is related to Indigenous housing and homelessness issues, including Indigenous tenant support, building operations, and cultural issues. The April 25 meeting is exclusive to Caucus members and offers an opportunity to network and inform the direction of the Caucus through the upcoming year. If you're unsure if you're a member of the Indigenous Caucus, please reach out to us at info@chra-achru.ca.
Innovation Forum – April 26
This year's Innovation Forum will showcase the most cutting-edge and sector-leading innovations in several key areas that are leading and inspiring transformation in the housing and homelessness sector including:
Commercial-to-residential conversion projects
Building gentle density
Culturally appropriate housing
Courses – April 25-26
Our courses explore complex ideas, taking a deep dive into some of the most important topics for housing sector professionals. This year's courses include:
Homelessness 101: This special workshop, led by social policy consultant Nick Falvo will explore the national homelessness landscape, the major factors that drive homelessness, emerging themes, and policy solutions.
Housing Policy: This course, taught by Professor Steve Pomeroy is a primer for those who have recently begun employment in the affordable housing sector and want to gain a better understanding of Canada's housing system and how it has evolved.
Building Evidence: Led by the leadership of the Chartered Institute of Canada, this course will open your eyes to the possibilities of using data to tell your story while diving into housing data from CMHC and Statistics Canada to better measure the impact to housing in your community.
Congress
This year's Congress will feature leaders in the community housing sector, offer over a dozen concurrent information sessions and workshops, highlight the newest innovations and transformations in the sector, recognize and celebrate leading individuals and organizations within the sector with CHRA's National Awards, and much more.
Sessions
Our Congress sessions will cover a variety of topics facing housing providers across the country including:
The challenges rural, remote, and northern communities
Fighting NIMBYism in our communities
Aging in place
Housing vulnerability
Housing financialization in Canada
A variety of sessions related to Indigenous housing and Reconciliation
And much more!
Visit the Agenda page on the Congress website to learn more. Keep checking back – we will update the page on a regular basis as we add more sessions and speakers.
Special events
Our special events will feature guests from the housing sector and government and inspirational keynote speakers to inspire and energize you. We'll also celebrate the successes of the Canadian housing and homelessness sector with the CHRA National Awards.
Visit our Special Events page for more details. We'll be updating this page as we confirm new speakers, so stay tuned!
We can't wait to see you in our virtual Congress space to learn about and discuss the latest developments in the sector and plan for the future of housing in Canada.
Visit us at chra-achru.ca/congress2022 to learn more and to register.