Reflections on the 2022 CHRA Virtual Congress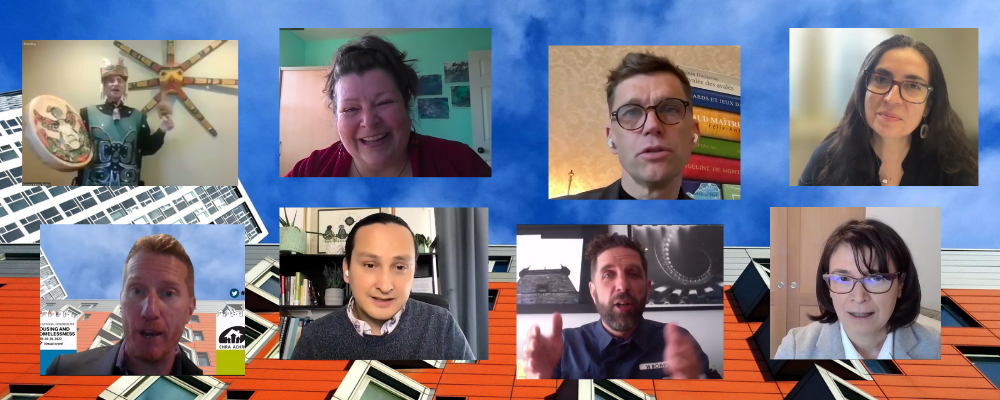 The 2022 CHRA Congress was originally planned as an in-person event in Quebec City; it would have been our first since the beginning of the pandemic. We had been looking forward to seeing our members, colleagues, and friends in person. In January, we were disappointed when we had to make the decision to switch to a virtual event format due to a rise in cases of COVID-19.
Last month, we welcomed attendees to the 54th Annual CHRA Congress on Housing and Homelessness. Any concerns we may have had about the possibility of declining attendance as people (understandably) grow weary of virtual events proved baseless as our registration numbers ended up being higher than they were for the 2021 Virtual Congress. Over 500 housing and homelessness professionals came together from April 25-28 to attend courses, the CHRA Indigenous Caucus Meeting, the Innovation Forum, and dozens of Congress sessions.
The high attendance at our second virtual Congress says multitudes about our sector and the people who comprise it. Sharing knowledge, lessons learned, and best practices is fundamental to how the sector operates. We work to ensure that all who live in Canada have access to safe, affordable, appropriate housing; this common goal motivates us to share our experience and know-how with peers and colleagues so that all sector organizations have access to the information and resources they need to serve their communities.
We're truly grateful that we were able to bring together a large and diverse group of housing and homelessness professionals, leaders, and students from across the country to examine some of the biggest issues facing the housing and homelessness sector.
Our pre-Congress courses took a deep dive into essential topics including homelessness, housing policy, and collecting and using data. Our 2022 Innovation Forum invited attendees to 'think outside the box' as we learned about creative solutions to some of the housing sector's most pressing ongoing concerns.
CHRA Indigenous Caucus members came together for the 2022 Indigenous Caucus Meeting. Participants received updates on the achievements, challenges, and opportunities in Caucus advocacy work over the past year and enjoyed keynote addresses from Chief Cadmus Delorme of Cowessess First Nation and Tanya Talaga, Storyteller and President & CEO of Makwa Creative. This year, our Congress program also featured a line-up of Indigenous-led sessions that explored issues including Housing and Homelessness Connections to Missing and Murdered Indigenous Women and Girls, Indigenous funding and financing programs, and more.
This year's Congress sessions explored essential topics and up-and-coming issues in the housing and homelessness sector. Sessions on topics including how to combat NIMBYism, growing sector capacity, the financialization of housing, the issues facing rural and northern communities, and much more sparked lively debates and Q&A periods as attendees were urged to think about how the issues presented are reflected in their own communities and how they can work towards implementing initiatives and solutions.
Throughout Congress, attendees also came together for a series of special events. We welcomed attendees at the Opening Ceremonies where we heard from Quebec City Mayor Bruno Marchand and the Federal Minister of Housing and Diversity and Inclusion Ahmed Hussen and spoke with CMHC President and CEO Romy Bowers. We also held our first-ever LGBTQ2S+ Roundtable and Social, in partnership with the CMHC Pride Network, enjoyed a creative and inspiring keynote address from Justin Kingsley, and celebrated our 2022 CHRA National Award Winners. We closed out the 2022 Congress with an engaging conversation with Canada's Inaugural Federal Housing Advocate, Marie-Josée Houle, where she discussed her goals for implementing the human right to adequate housing in Canada.
We're so grateful to all who made this year's event a success: attendees, speakers, guests, and sponsors alike. We're looking forward to seeing attendees in person, April 18-20, 2023, in Winnipeg. Be sure to save the date in your calendar and keep an eye on our communications channels for more information over the coming months.