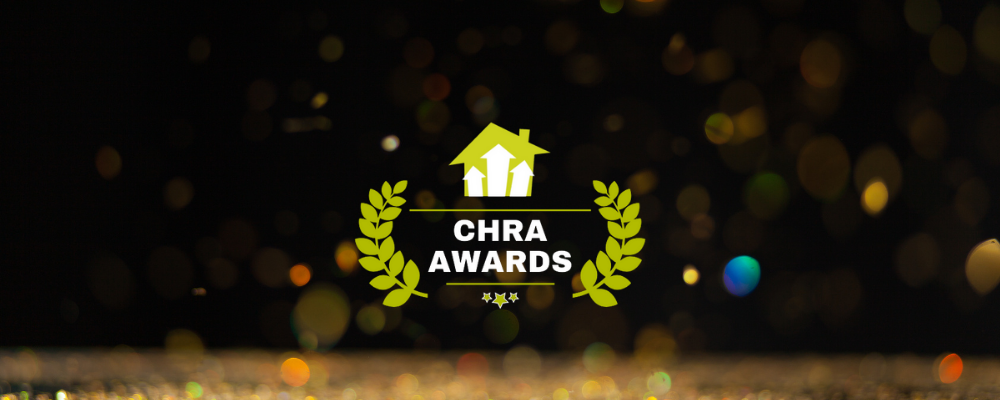 Congratulations to the 2022 CHRA National Awards winners!
05 May 2022
By Leah Blunden, CHRA Communications Manager
Everyone deserves recognition for a job well done. Each year, the CHRA National Awards encourage and celebrate excellence in the Canadian housing and homelessness sector by honouring exceptional people and programs that help ensure a safe and affordable home for all.
This year's winners truly are an inspiration. Read on to learn about our 2022 Award winners and their incredible contributions to Canada's housing and homelessness sector.
Community Builder Award – Action-Habitation
Action-Habitation has worked to preserve and develop social and community housing in the Quebec region for 43 years. The organization currently manages 4,000 housing units and has plans to develop 1,000 more.
Lauberivière, a shelter and multi-service center located in downtown Quebec City, called on Action-Habitation to manage a project to improve its spaces. For many years, Lauberivière was forced to turn down clients due to a lack of space.
Action-Habitation worked with the organization to develop a new facility that has dramatically increased the number of people served by Lauberivière and acts as a model for community services collaboration and energy-efficient developments.
Sustainability Award – The National Affordable Housing Corporation's Plainsview Townhomes
Located in Regina's Rosewood Park neighbourhood, Plainsview Townhomes is Saskatchewan's first affordable housing development to achieve Net Zero Energy, with six of its units meeting that standard as part of a pilot project supported by the Federation of Canadian Municipalities.
Utilizing innovative building technology, energy monitoring, and tenant engagement, Plainsview Townhomes is sure to serve as a model for future National Affordable Housing Corporation developments and sustainable affordable housing developments across the country.
Leadership Award - Stéphan Corriveau
Stéphan's defense of human rights and his fight to end inequality have been lifelong pursuits, both in his volunteerism and throughout his long career.
Stéphan's desire to strengthen communities through affordable housing led him to the RQOH Réseau québécois des OSBL d'habitation as Executive Director, where he worked to broaden the organization's mandate and improve best practices in Quebec's housing sector.
Stéphan was part of the team that negotiated an agreement with the federal government that gave us the Community Housing Transformation Centre. He soon became its first Executive Director. In the Centre's less than three years in operation it has supported more than 220 projects in all provinces and territories.
Stéphan's vision and dedication are an inspiration to current and future leaders in Canada's housing sector.
Lifetime Achievement Award – Deborah Kraus
Starting in 1982, Deborah's career spans the non-profit and government housing sectors and 15 years as a consultant. She is one of the few research consultants focused solely on affordable housing and homelessness and has collaborated over the years with key researchers in the field to produce over 30 research reports. Few people in Canada have done work of such focus, breadth, depth, and quality.
Deborah is someone people love to work with and is known for her generosity in mentoring young professionals.
Deborah demonstrates an unwavering commitment to affordable housing and the people it serves. She and her extraordinary body of work are an inspiration to her peers.
Rooftops Canada International Service Award – BC Non-Profit Housing Association
BC Non-Profit Housing Association has been an active partner of Rooftops Canada. They have provided scholarships and facilitated the participation of South African social housing professionals in its Housing Central Conference. Currently, BC Non-Profit Housing Association is working with South Africa's National Association of Social Housing Organizations to adapt its online "Ready, Set, Build" course for use in South Africa.
BC Non-Profit Housing Association's ongoing commitment to supporting Rooftops Canada's initiatives and those of its partners is an inspiration to those who work in international development.
Visit our 2022 Award winners page to view the Awards ceremony and all the award videos.
Do you know an individual or organization who is deserving of a CHRA National Award? Nominations for the 2023 Awards open this fall. Learn more about the Awards program.