Pathway to the middle class begins with affordable housing and must be prioritized in the 2016 Budget
Thursday, January 7, 2016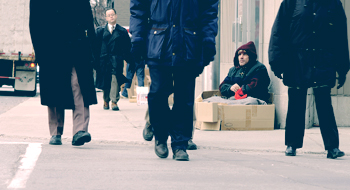 For immediate release
CHRA calls on Canadians to push for housing investments via Finance's online pre-budget consultation.
On the heels of an Employment and Social Development Canada study release stating that 2,250 veterans are homeless, the Canadian Housing and Renewal Association is calling on the federal government to commit to comprehensively tackling Canada's homelessness and housing crisis in its next federal budget.
Specifically, CHRA is asking the government to build new social housing, repair and renew existing stock, and support people with the help and rent they need to stay housed.
"It's shameful that many of Canada's most vulnerable, including some of our vets, have experienced homelessness in the last few decades, or are close to facing this reality due to a convergence of economic and social factors," said CHRA's Interim Executive Director Tim Ross.
Currently, federal investments in social housing through operating agreements are set to gradually decline from $1.6 billion in 2015 to $0 in 2040, putting Canadian households at risk of economic eviction and possibly homelessness, according to a CHRA Report.
"Yesterday's headline about so many vets being without a home is shocking to the Canadian public," said Ross, "but what many don't know is that one in five Canadian households lives in core housing need, and that many of these people could face homelessness if serious investments in our social housing stock aren't made immediately."
CHRA believes that significant investments along the complete affordable housing spectrum are needed right away to ensure that all Canadians have a safe, decent and affordable home. Such investments include providing support for those who are chronically homeless through Housing First programs, to ensuring the viability of social housing assets (i.e. public, nonprofit or co-op housing) and building new affordable and social housing. Social housing gives safety and stability to people with low incomes who are often lone-parent families, seniors, urban aboriginals, recent immigrants and people with disabilities.
CHRA and its partners have been working closely with the new federal government since the election and is pleased to see a commitment to creating a National Housing Strategy through ministerial mandate letters.
"Housing is a very complex issue due to the layers of governments involved and the many different delivery programs that exist," said Ross. "That's why it's important that any new housing policy be created with the input of those on the ground who will be implementing it, in an effort to ensure true efficiency and success. We're encouraged to see that the federal government is very willing to collaborate with our sector and we look forward to rolling up our sleeves to help lessen and eventually solve this crisis."
CHRA is calling on all Canadians to fill out the Minster of Finance's online pre-budget questionnaire by indicating that investments in affordable housing and homelessness eradication must be prioritized in 2016.
-30-
Media contact:
Catherine Fortin LeFaivre
CHRA Public Affairs Director
613-979-8683 | cflefaivre@chra-achru.ca