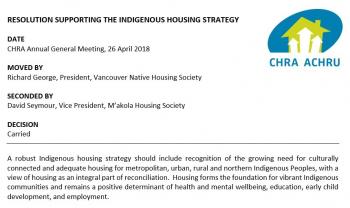 At CHRA's Annual General Meeting in April 2018, members unanimously passed a strongly worded resolution supporting the development of an Indigenous Housing Strategy for urban, rural and northern Indigenous Peoples. CHRA's Resolution calls on the Government of Canada to develop a strategy that would set forth an objective of raising the standard of Indigenous housing to that of non-Indigenous Canadians within the next 10 years.
CHRA firmly believes that a robust Indigenous housing strategy should include recognition of the growing need for culturally connected and adequate housing for urban, rural and northern Indigenous Peoples, with a view of housing as an integral part of reconciliation. Housing forms the foundation for vibrant Indigenous communities and remains a positive determinant of health and mental wellbeing, education, early child development, and employment.
Read our Resolution to Support an Urban, Rural, and Northern Indigenous Housing Strategy (PDF)
We need the voices of individuals and organizations working in housing and homelessness to extend their support to urban, rural and northern Indigenous housing. If you would like to add your support and official endorse this Resolution, please send an email to indigenous@chra-achru.ca and we will recognize you on our website.