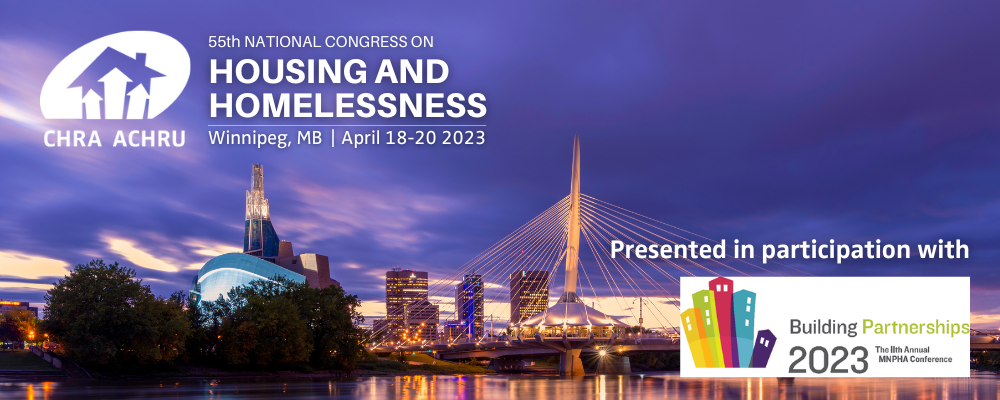 The 2023 CHRA National Congress: A preview
09 Mar 2023
Leah Blunden, CHRA Communications Manager
Our team is gearing up to welcome you to the 2023 CHRA National Congress on Housing and Homelessness, taking place in Winnipeg, April 18-20. This is our first in-person Congress since 2019 and we're so excited to bring Canada's community housing sector back together under one roof for three days of learning, networking, and engagement. Read on to see what's on at this year's Congress.
Pre-Congress courses
We're offering our Pre-Congress courses, presented in cooperation with the Chartered Institute of Housing Canada, on April 17. Brush up on your skills and knowledge or learn something new by registering for:
Compassion Fatigue, Burnout and Retention in Affordable Housing. Compassion fatigue and burnout are a real danger to the sustainability of the housing sector. Gain an understanding of compassion fatigue and burnout as it relates to housing and in your own work, learn how to understand and identify protective factors, and learn about individual and organisational practices to address compassion fatigue and burnout.
The Curious Case of Housing Policy in Canada. Learn about the policy landscape of housing in Canada, key government and non-government actors that influence policy outputs and how their decisions impact homeless individuals across the country, the key policies surrounding housing in Canada, barriers to policy implementation in Canada, and the concept of the 'right to housing'.
Using Media to Increase Your Clout in the Housing Sector. This course will cover timeless communications principles and explain key messages and why they're so important, using real-life examples including CHRA's key advocacy messages. Learn about the differences between various types of media interviews and how to maximize each, how to prepare key messages and stay on message in the face of uncertainty, what the media is looking for in a story, and how to leverage social media to showcase your work.
Indigenous Innovation Forum
This event, taking place on Tuesday, April 18, is new in 2023. It combines the "Innovation Forum" and "Indigenous Caucus Day" of previous years to provide a day of learning and discussion about Indigenous innovations in Housing. This event will offer a variety of sessions, valuable insights, and learning opportunities for Indigenous and non-Indigenous participants alike.
Congress program
In our two full days of Congress programming from Wednesday, April 19 to Thursday, April 20, we'll explore the latest trends and issues affecting Canada's housing and homelessness sector including:
innovations to help the sector realize the right to housing in Canada
case studies, tools, and insights on affordable housing development
inclusive design for supportive housing
addressing discrimination in housing
getting creative with financing options
refreshing the National Housing Strategy, and much more!
Mobile Tours
You'll have the opportunity to register for a variety of mobile tours that showcase some of the great work being done by Winnipeg housing providers, social service organizations, and community groups.
Mobile Tour 1: The Bell Hotel & Home First. This mobile tour will visit The Bell Hotel Supportive Housing Project, Winnipeg's first congregate site project employing a Housing First approach, and the recently opened Home First Winnipeg project, a 47-unit housing project in Winnipeg's inner-city intended to house people experiencing homelessness.
Mobile Tour 2: University of Winnipeg. This tour will give an overview of the University of Winnipeg Community Renewal Corporation's direct contribution to the positive revitalization of Winnipeg's downtown and the advancement of the University of Winnipeg's campus and community as an innovative, dynamic and sustainable place to live, work, and play.
Mobile Tour 3: Ten Ten Sinclair Housing. Ten Ten Sinclair Housing provides affordable and accessible housing for people with physical disabilities, including transitional housing for those who wish to develop the skills necessary to live independently in the community. Visit Ten Ten Sinclair Housing and hear about their pioneering programs in universal design, community inclusion, and consumer rights for people with disabilities.
Mobile Tour 4: Westminster Housing (West End Historic Tour). The Westminster Housing Society purchases and rehabilitates homes, including townhouses, small apartment blocks, and single-family homes, to provide affordable housing in the neighbourhood. Join this tour to see its housing projects and hear about the impacts the housing has had on the community.
Mobile Tour 5: Hudson's Bay Redevelopment. The Southern Chiefs Organization (SCO) has acquired the Hudson's Bay heritage building in downtown Winnipeg. Visit the site and hear SCO's vision for the project, which includes mixed-income housing, retail development, a non-profit childcare centre, an on-site health centre, and a future Governance House for the Chiefs of the Southern First Nation.
Mobile Tour 6: 26 Gaylene. S.A.M. Properties Holding Inc. partnered with Makoon Transition to provide support and wrap around services in the building as well as units for families. Join this tour and get a firsthand look at the property, its services, and the partnership between a housing provider and social services organization in action.
Visit our Agenda page to learn more about Pre-Congress courses, the Indigenous Innovation Forum, the Congress program, and the mobile tours.
Special events
From social events, to keynote addresses, to Congress features a number of special events that bring attendees together to learn, network, and celebrate the sector.
Social events. Join us for meet and greet events (there's even a meet and greet afterparty) to catch up with your colleagues and make new connections in a relaxed, informal environment.
Opening/Closing Ceremonies. These events bring Congress attendees together to hear from sector leaders and special guests in thought-provoking sessions. The Opening Ceremonies will include an in-depth conversation between CHRA Executive Director Ray Sullivan and Romy Bowers, President & CEO of Canada Mortgage and Housing Corporation. Our Closing Ceremonies, taking place at The Canadian Museum for Human Rights will feature a closing keynote address from Leilani Farha, Canadian lawyer, Global Director of The Shift, and the United Nations special rapporteur on adequate housing (2014-2020).
Keynote address. This year's Keynote Speaker is The Honourable Jody Wilson-Raybould, Former Member of Parliament, Former Minister of Justice and Attorney General of Canada, and Bestselling Author, who will speak on 'True Reconciliation'
President's Reception. Catch up with your colleagues, enjoy a sit-down dinner, and help us honour and recognize the people and organizations who have truly gone above and beyond in community housing and homelessness sector in Canada as we present our National Awards. This event is taking place at Winnipeg's iconic Metropolitan Entertainment Centre.
We're excited to welcome Althia Raj, award-winning journalist, as our guest speaker for the President's Reception.
Learn more about our special events.
Tradeshow
The CHRA Tradeshow takes place on Wednesday, April 18. Attend the Tradeshow and connect with businesses, suppliers, and service providers that can assist your organization with property management, finance, operations, and more!
Learn more about the Tradeshow and our sponsors.