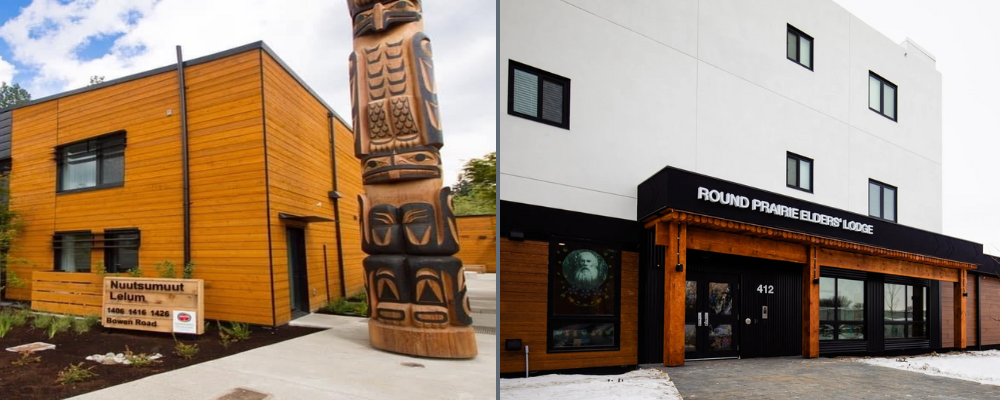 Innovative Approaches to Culturally Appropriate Housing
03 Nov 2022
Leah Blunden, CHRA Communications Manager
This past April, the 2022 CHRA National Congress featured an amazing lineup of sessions that delved into some of the biggest issues facing Canada's housing and homelessness sector. During this year's Innovation Forum, speakers Thomas O'Brien, Manager of Housing & Facilities from Nanaimo Aboriginal Centre and Nick Sackville, VP Community Development for Big Block Construction joined us to discuss their experiences addressing housing issues while ensuring the safe, culturally appropriate, and responsible integration of holistic services. Read on to learn more.
Nuutsumuut Lelum - Certified Passive House
Thomas O'Brien, Manager of Housing & Facilities, Nanaimo Aboriginal Centre
Established in 2013, Nanaimo Aboriginal Centre (NAC) is a non-profit organization whose work focuses on education, culture & family. NAC programs and services are designed with the urban Indigenous community in mind and are open to anyone living in Nanaimo.
Nuutsumuut Lelum (translated from Hul'q'umi'num to English means "Nuutsumuut-All in one, Lelum-House") located in Nanaimo, BC is a Passive House Certified multi-unit residential development. Passive House is the world's leading standard in energy efficient construction. The primary objective is to minimize heat loss by optimizing the thermal performance of the building envelope. This is accomplished with super-insulation, airtightness, high performance windows and incorporating very high-efficiency heat recovery ventilation.
NAC's vision for Nuutsumuut Lelum was to create safe, affordable, culturally appropriate housing for Urban Indigenous peoples. The development uses the basic principles of Passive House planning and design while incorporating local resources traditionally used by Indigenous communities. Nuutsumuut Lelum was designed to resemble Traditional Coast Salish Longhouses and is a For Indigenous, By Indigenous project; NAC believes this is critical when operating culturally appropriate housing for Indigenous peoples.
Nuutsumuut Lelum is designed with shared spaces including a firepit and amphitheatre area, as well as the Chuu Kwaa Room, which was designed to allow residents to hold gatherings they may not be able to host in their units. Nuutsumuut Lelum also hosts programs including Homework Club, Youth Group, coffee talks for parents, Youth Night on Fridays as well as educational opportunities to support Elders in learning to read and write. A sense of community is also fostered with the presence of a 37-foot Totem Pole carved by local Snuneymuxw Artist Noel Brown and art installations by Métis artist Keltie Chamberlain.
Nuutsumuut Lelum has been recognized with the BCNPHA 2018 Housing Provider of the Year Award and the 2019 Vancouver Island Real Estate Board Commercial Building Awards-Award of Excellence the Non-Market category.
Round Prairie Elders' Lodge
Nick Sackville, VP Community Development for Big Block Construction
The development of Round Prairie Elders' Lodge was led by Central Urban Métis Federation Inc. (CUMFI), a community-based Métis owned and operated non-profit organization located in Saskatoon and developed in partnership with Big Block Construction, a Saskatchewan-based construction firm that specializes in modular construction and building affordable and appropriate multi-unit residential projects alongside community-minded organizations.
There were three main factors that allowed the project to be completed on time and on budget while ensuring the development celebrated the culture of those it serves in an authentic way:
The Indigenous Homes Innovation Initative (IHII). The Round Prairie Elders Lodge was one of the first of the developments that was completed under IHII, run by CANDO, a national Indigenous organization involved in Indigenous community economic development. The projects selected for this initiative received funding from the Housing Accelerator Fund and were paired with a mentor. The funding provided at the beginning of the process was key to getting initial development steps underway.
CUMFI as developer. The project was led by CUMFI. Big Block acted as a co-developer to guide the process and help CUMFI build capacity. This relationship was reciprocal; CUMFI helped Big Block to understand the cultural significance of the project. The name of the development was taken from Round Prairie Métis settlement, just south of Saskatoon, which is no longer a populated community. The CUMFI/Big Block team visited the settlement, guided by CUMFI President Shirley Isbister, who was born there. She told stories about the community gave the Big Block team an understanding of the deep meaning Round Prairie holds for her and the Elders who would inhabit the new development, as well as the significance of carrying that history into Saskatoon with the new Round Prairie Elders' Lodge.
Integrated design. The integrative process breaks down the barriers between the design and build phases and allows for adaptability to challenges and changes. The cost of construction increased significantly throughout the process; the integrated design model allowed the team to adapt to increased costs by altering the design and applying for new funding as it became available. The Big Block team attended the Elder consultations at the beginning of the project which influenced the design including the courtyard garden, which has helped provide community and food security for residents.
Providing culturally appropriate housing is a critical tool in improving housing outcomes for urban, rural, and northern Indigenous peoples. The success of both projects can be attributed to the fact that they were led by Indigenous peoples, for Indigenous peoples. As noted in CHRA's Submission to the House of Commons Standing Committee on Finance for Pre-Budget Consultations in Advance of the 2023 Budget, "Indigenous-led organizations are the most effective at providing housing to Indigenous peoples". In his presentation Thomas O'Brien told us, "By knowing and understanding the needs, struggles and successes of our Urban Indigenous peoples we can best plan to provide what's needed, recommended appropriate supports for their struggles and finally acknowledge and recognize their successes, all in a culturally appropriate way". Nuutsumuut Lelum and Round Prairie Elders' Lodge can act as a model for success for similar projects going forward.