Nominate an exceptional individual or organization for an Award of Recognition
Monday, November 19, 2018
Deadline to nominate: December 14, 2018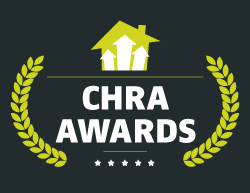 Each year we honour and pay tribute to outstanding individuals and organizations that excel at providing safe and affordable housing to all people living in Canada. Nominations for the four CHRA National Awards of Recognition are now open.
Nominate a deserving candidate today, and let's celebrate the outstanding achievements taking place in the social and affordable housing sector!
Award recipients are recognized at a special awards luncheon during our National Congress on Housing and Homelessness, taking place on April 4, 2019 in Victoria, British Columbia. More information, including nomination instructions, eligibility and award description, is available on the detailed awards page.
To submit a nomination for most awards, you must be a member in good standing.