Join the call for a legislated right to housing in Canada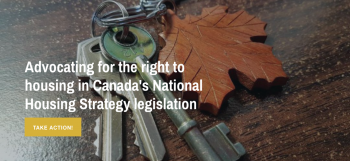 The Canadian Housing and Renewal Association joined other affordable housing, homelessness and anti-poverty representatives, including Leilani Farha, the UN Special Rapporteur on Adequate Housing and the Canadian Alliance to End Homelessness, to release an open letter to Prime Minister Trudeau signed by over 170 prominent organizations and individuals. It calls for the forthcoming right to housing legislation to be meaningful and to ensure that proper mechanisms are put in place to promote the right to housing for all people in Canada. The letter was released at a press conference on Parliament Hill on August 14, 2018.
It underlines many key recommendations made by CHRA in its submission to the public consultation, which includes a well-defined accountability mechanism through the new Housing Advocate position, a distinct Indigenous right-to-housing and the requirement for regular reporting outcomes.