Canada Can Show Leadership by Investing in Social Housing through Environmental Lens
Friday, November 20, 2015
-For immediate release-
Environment and Climate Change Minister Catherine McKenna and Ontario Community Safety Minister Yasir Naqvi on Hand to Lend Support on National Housing Day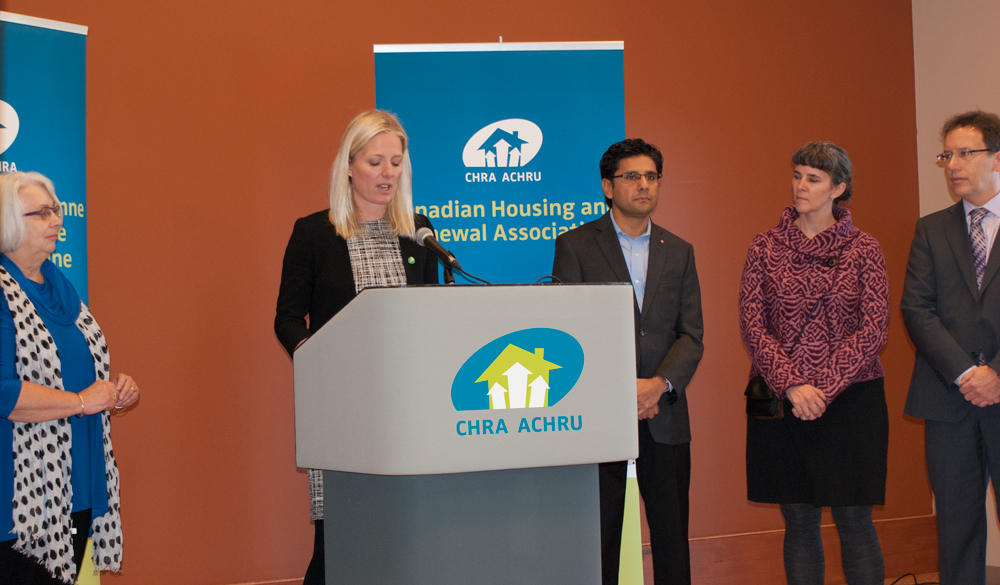 Today, the Canadian affordable and social housing sector came together to mark National Housing Day, highlighting the opportunity that Canada has to show global leadership next week in Paris at the United Nations Climate Change Conference by investing in much needed social housing infrastructure using an innovative and green approach.
"Canada is at a crossroads in terms of investment in social infrastructure and environmental stewardship, as both aspects have been left in crisis mode. Our new government has an opportunity to show international leadership on both fronts by building much needed social housing while taking urgent action on climate change," said Canadian Housing and Renewal Association (CHRA) President Brigitte Witkowski.
CHRA and some of its members, including the Ontario Non-Profit Housing Association (ONPHA), the Co-operative Housing Federation of Canada, Ottawa Community Housing (OCH), Centretown Citizens Ottawa Corporation (CCOC) and the Alliance to End Homelessness Ottawa, as well as members of the Housing for All National Network were in Ottawa to demonstrate a united voice in the call for more social housing stock across Canada.
In show of support for such an approach, the Honourable Catherine McKenna, Minister of the Environment and Climate Change and M.P. for Ottawa Centre, was on hand.
"It's extremely important for us to also look at future investment and growth in affordable and social housing through an environmental lens, "said Minister McKenna, who actively participated in CHRA's Housing for All Roundtable in September as a candidate, and who today pledged on behalf of the government to work with all stakeholders to end homelessness and housing vulnerability in Canada.
Against the backdrop of Beaver Barracks, a successfully operating and award-winning social housing complex located in Ottawa Centre, the group demonstrated what can be done when all levels of government and local partners come together to create innovative, sustainable and affordable housing.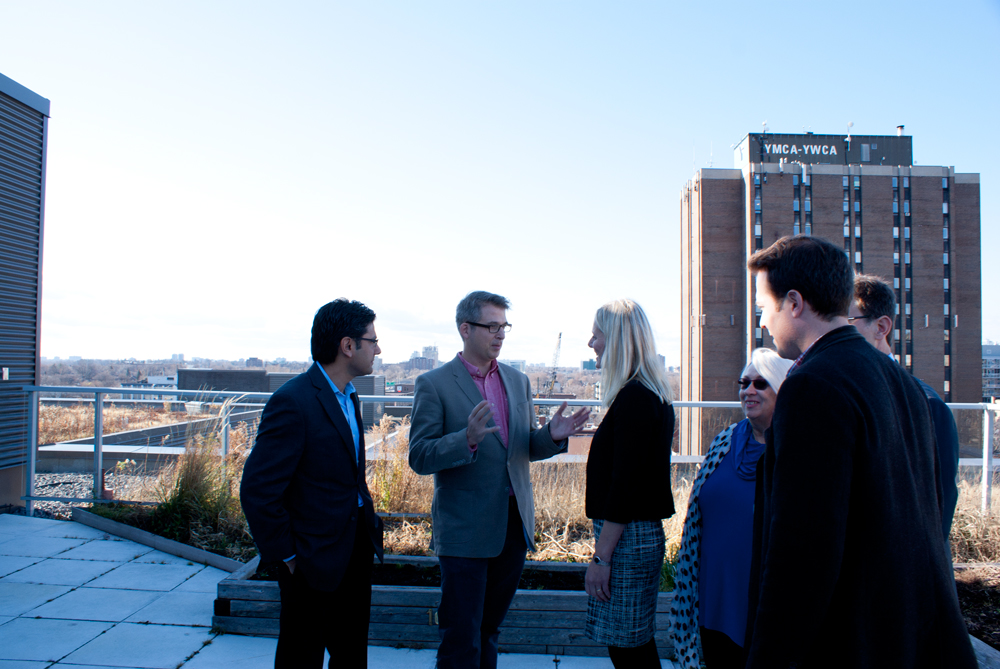 Both OCH and CCOC have been recognized for their green practices.
"Ottawa Community Housing made a strong commitment toward sustainability. In today's world, it is critical to adopt an environmental approach to maximize outcomes," said Stéphane Giguère, CEO of OCH.
"OCH has gained recognition as an innovative and environmentally responsible landlord through a well-executed Green Plan, including water and lighting retrofits. Adopting a holistic approach towards integrating green practices generates many benefits such as waste and cost reduction, enhances our portfolio, improves health, conserves energy and of course, reduces greenhouse gas emission. As a leader, we need to set the tone for all housing providers and industry partners to adopt a similar approach.
From new building design to capital retrofits and daily operations with its existing stock, CCOC strives for the deepest green. Beaver Barracks is home to the largest residential geothermal installation in Canada at the time of its development, and was a top 10 finalist for the World Habitat Awards in 2013. Its sustainability features include a high performance envelope, triple-glazed windows and energy recovery ventilator.
"The Beaver Barracks community is what needs to happen on a macro-level," said ONPHA President Meg McCallum. "We are hopeful that the federal government will lead in bringing in the provinces, municipalities and all other stakeholders together to ensure that a National Housing Strategy is created and implemented—one that truly meets the needs of those desperately waiting for social housing."
Across the country, every major city is dealing with long waiting list. In Ottawa and Vancouver respectively, there are over 10,000 families waiting, and in Toronto, there are over 90,000 families on the list. These numbers do not take into account the 25,000 Syrian refugees who will need housing in the near future.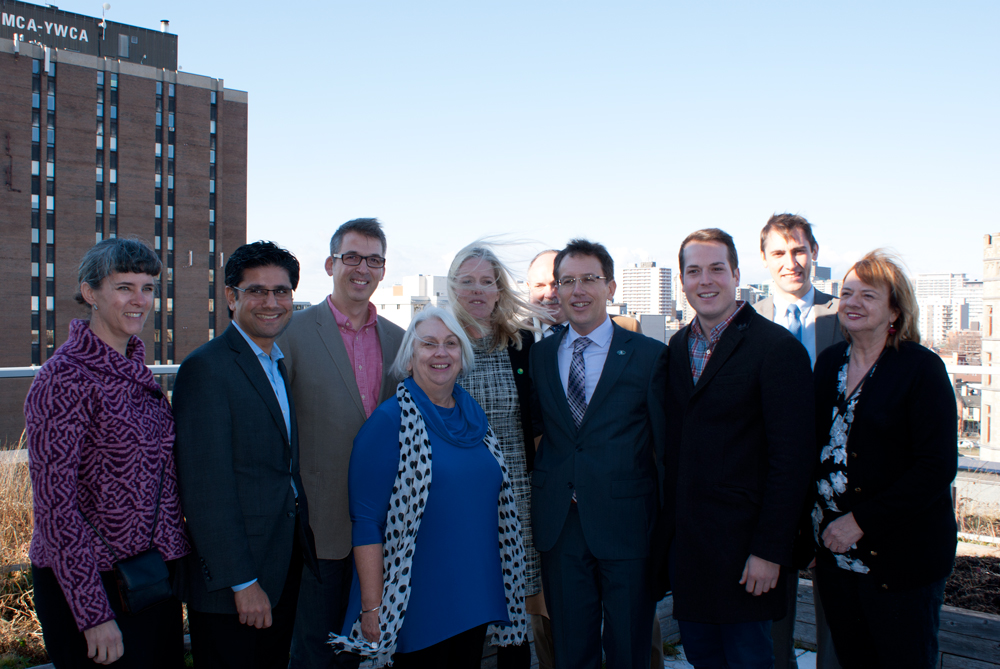 Under the previous federal government, investments in social housing through operating agreements were gradually set to decline from $1.6 billion in 2015 to $0 in 2040, putting 365,000 Canadian households at risk of economic eviction and possibly homelessness, according to a CHRA report.
CHRA was pleased to see the new Government of Canada commit to developing a National Housing Strategy, and looks forward to working closely with the Honourable Jean-Yves Duclos, Minister of Families, Children and Social Development, the Honourable Amarjeet Sohi, Minister of Infrastructure and Communities, and the Honourable Carolyn Bennett, Minister of Indigenous and Northern Affairs to assist in creating and implementing such a plan.
Social housing gives safety and stability to people with low incomes who are often lone-parent families, seniors, urban Aboriginal peoples, recent immigrants and people with disabilities. Adequate social housing supply is also a key element to ending homelessness.
-30-
Media contact: Catherine Fortin LeFaivre, CHRA Public Affairs Director cflefaivre@chra-achru.ca 613-979-8683
The CHRA's members and stakeholders include housing providers, municipalities, businesses, all 13 provincial and territorial housing departments, service and support agencies, individuals, students and other housing-related associations and networks.
#housing4all chra-achru.ca @CHRA_ACHRU
Download the PDF | Watch the event: