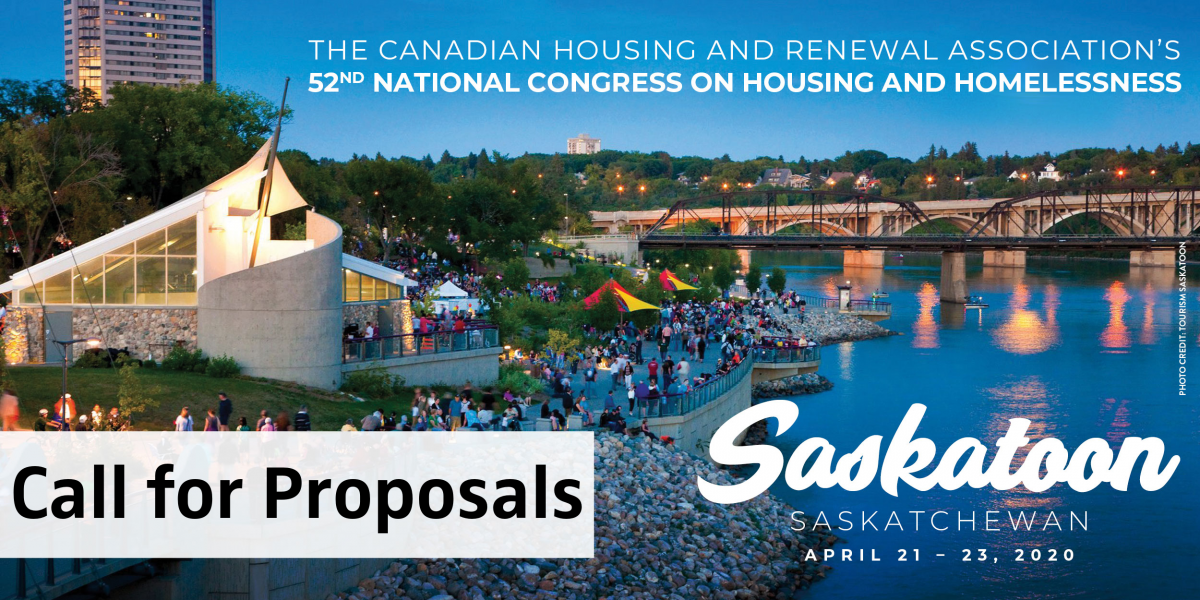 April 21 to 23 2020
TCU Conference Centre
35 22 St E,
Saskatoon, SK S7K 0C8
The Canadian Housing and Renewal Association (CHRA) is seeking proposals for the 52nd National Congress on Housing and Homelessness. The deadline to submit proposals is October 11, 2019.
---
About the Congress
CHRA's Congress on Housing and Homelessness unites leaders and professionals from across the community housing and homelessness sector to meet and exchange learnings and ideas.
Last year's CHRA Congress united over 700 practitioners, policy makers, front-line workers, government officials and key stakeholders from Canada and abroad for three days of learning and networking opportunities.
Each year we develop a unique program of concurrent workshops, plenary sessions, mobile tours and keynotes to meet the educational needs and interests of our delegates.
---
About the Call for Proposals
We invite you to submit proposals for our concurrent sessions!
Sessions usually take place during a 1.5-hour time slot with one or more speakers.
We want your suggestions on innovative and engaging session formats; these can be traditional conference session formats or more creative formats such as "The Solution Room" and "Lightning Talks" among others.
Speakers who are unable to attend in person are still encouraged to submit proposals. Video conferencing is an option for select sessions. Please indicate in the audio-visual needs section of the call for proposal application if you plan on presenting remotely.
* The final workshop format and number of panelists will be determined at CHRA's discretion. In order to develop a high-quality Congress program, CHRA will put presentations together into sessions with similar themes. We may ask applicants to make adjustments to accommodate other presentations. We reserve the right to edit session and presentation descriptions and limit the number of presenters.
Call for Proposals will be used to program CHRA's main Congress, Innovation Forum, and Indigenous Caucus. 
---
We are inviting proposal submissions on a range of topics, including, but not limited to the following areas
Neighbourhood Renewal/Redevelopment
National Housing Strategy
Right to Housing
Indigenous Housing
Community Capacity Building
Asset Management
Financing Models
Leveraging Capital/Assets
Social Enterprise Models
Affordable Housing
Homeownership
Rental Housing
Supportive Housing
Mental Health/Addictions & Housing
Housing and Health
Green/Sustainable Initiatives

Women's Housing
Poverty Reduction and Housing
Newcomer Housing
Seniors Housing
Northern Housing
Policy (eg. New Prov./Municipal Initiatives)
Housing Related Research
National/International Initiatives
Leadership, Planning & Governance
Sector Capacity & Growth
New Development of Affordable Housing
Operations Management
Creating successes through partnerships
Small/Rural Communities
Post-EOA Transition
Homelessness
---
How to Submit a Proposal
The Call for Proposals is now closed.
Applicants will be notified of their acceptance in early December.
---
Please Note
Sessions will be offered in English. Sessions may also be offered in French with simultaneous translation available for speakers, moderators and delegates in at least one of the concurrent session rooms.
CHRA retains final approval of all session content, format and speakers. Due to the high number of anticipated proposals, CHRA cannot guarantee acceptance of all submissions.
Selected speakers and moderators are responsible for their own travel and accommodation. CHRA will cover the cost of registration for the day you are speaking if selected (equivalent to the cost of a Congress day-pass). Please note the presenter rate is limited to only one presenter per organization per workshop session.
A limited number of bursaries will be available for Early Career Professionals and for persons with lived experience. More details will be made available in early fall.
---
Questions