Touring the Ottawa Salus Karen's place property on Clementine Ave.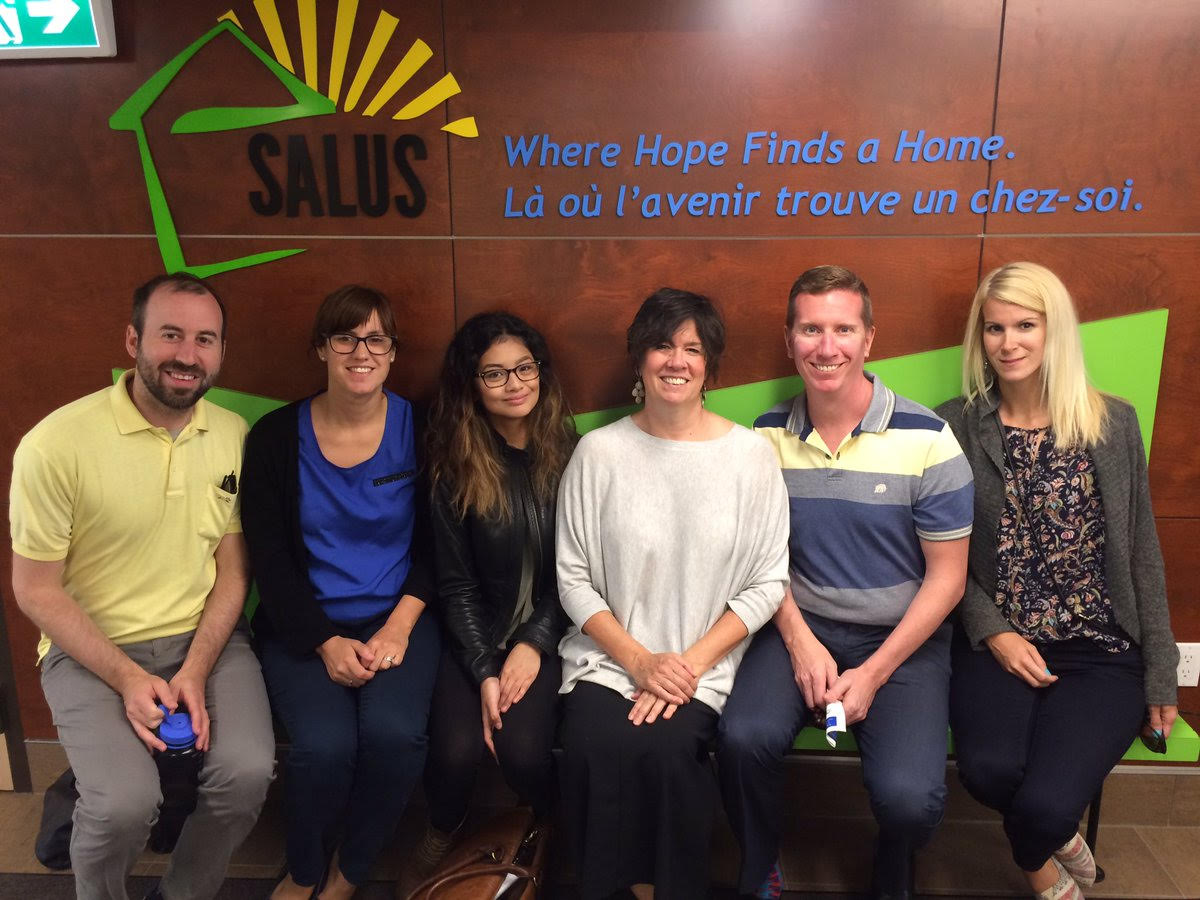 26 Jun 2017
By Dana Salvador, Communications Associate, Canadian Housing and Renewal Association
On June 26th, the staff of CHRA had the chance to take a tour of Ottawa Salus' newest 42-unit affordable housing development, "Karen's place" in Ottawa, Ont. Karen's place offers its residence an affordable, comfortable and safe place to call home. With full size bachelor suites, common areas for building residents, a community garden, and laundry/washing facilities, the establishment and functioning of this housing project is made possible through $2.3 million of fundraising and donations from several Ottawa Salus donors and partners.
This special building is the first Passive Housing structure in North America to be built with light steel and is the first and largest multi-unit residential affordable housing project in Canada to be built meeting the "Passive House" environmental standard. The Passive House standard is one of the highest energy standards in the world and Salus is able to greatly reduce their energy consumption to a mere $27/year on heating costs for the entire building! Savings on energy allows Salus to not only reduce the building operating costs and its own environmental footprint, but also to focus their budget on supporting their clients.
Ottawa Salus' supportive housing caters to both male and female clients living with serious mental illness in the Ottawa area. The Canadian charity, established in 1977, works to promote the growth and well-being of individuals dealing with mental health problems in the community by providing quality housing and support service in both English and French. Aside from providing them with a safe and dignified place to call home, Salus also offers other mental health programs and services such as case management services, community development services, transitional rehabilitation programs, occupational therapy services, as well as recreational and wellness services. These services are all catered to each client's individual needs, stages in recovery and circumstances.
Upon entering the building, our staff was warmly greeted by the executive director of Ottawa Salus, Lisa Ker, who gave us an extensive tour of the building. The building is able to house 42 clients and is a facility which encourages the ownership of pets among residents.
On the main floor, the building has on-site staff to address the needs of its residents, coin-operated laundry machines available for resident use, a multi-purpose room used to cater the various events and programs the building offers for its residences, a full multi-purpose kitchen area, a beautiful backyard garden and outdoor area for its residence to make use of during the warmer months, as well as accessible units to cater to clients with accessibility needs.
We had the opportunity to tour one of the accessible units, which includes a full washroom with an accessible shower, a bachelor suite equipped with a full kitchen, a large window and storage space. Another unique element to the units it they are fully sound proofed from outside noise with the windows closed and their heating/cooling system regulates itself throughout the year to allow residents to adjust the temperature of their room slightly without affecting the temperature control of the entire building. We also got the chance to visit the maintenance room and learn how the inner workings of the building's efficient heating/cooling system operate.
Overall, the tour of the Ottawa Salus Karen's place property on Clementine Avenue was a great experience where we were able to explore and learn more about one of the newest affordable housing projects offered in the Ottawa community. The Clementine property is an incredibly innovative and ingenious affordable housing project which provides a great example of the future of affordable housing. Not only does it show that social housing complexes can truly be a comfortable environment for those who need it, but that they can be environmentally and economically efficient as well.
Dana Salvador – Student Marketing and Promotions Associate
Dana is currently working on her Joint Honours BSocSci degree in Communications and Political Science at the University of Ottawa.
After working with the Canadian Housing and Renewal Association, Dana hopes to broaden her experience and strengthen her knowledge on working with NGOs to push for government policy initiatives.