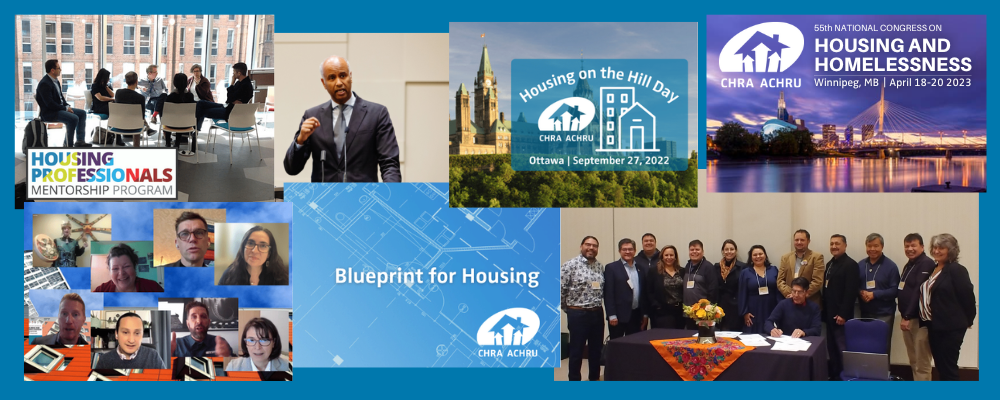 Reflecting on 2022 and looking ahead to 2023
12 Jan 2023
Leah Blunden, CHRA Communications Manager
We're looking forward to another year as the voice of Canada's community housing sector. 2022 was a year of successes and challenges for CHRA, its members, and the wider community housing sector. Housing remains a top concern as inflation and rising rents increase the cost of living for individuals and families across the country. We believe that community housing is the key to unlocking a Canada that is fair, inclusive, and affordable for all. In 2022, we worked to further the cause of community housing and we're ready to build on that in 2023. Read on to learn more.
What we did in 2022
Last year was a productive one for CHRA and its members. In 2022, we helped support the sector with advocacy initiatives, events, professional development opportunities, and more.
The CHRA Indigenous Caucus helped facilitate the formation of The National Indigenous Housing Coalition. The Caucus Working Group was instrumental in bringing together Indigenous housing and service provider leaders from across the country to create the Coalition, which will shape the landscape of urban, rural, and northern Indigenous housing across the country. Read the Declaration.
We released the Blueprint for Housing. Informed by an extensive consultation with CHRA members, housing leaders, and stakeholders, this document will guide CHRA's policy priorities over the coming decade.
We held another successful virtual edition of the CHRA National Congress. From April 25-28, 2022, we welcomed over 500 housing and homelessness professionals to our virtual space to attend courses, the CHRA Indigenous Caucus Meeting, the Innovation Forum, and Congress sessions.
Housing on the Hill 2022 was our first major in-person event since 2019. This event brought more than 50 housing professionals and leaders together in Ottawa to meet with MPs to discuss our most urgent advocacy priorities drawn from our Blueprint for Housing.
With the input of members, we communicated regularly with the federal government in the form of official submissions and letters. Submissions included Pre-Budget consultations and recommendations for improving National Housing Strategy programs.
The Chartered Institute of Housing (CIH) Canada, administered by CHRA, launched a revamped learning and accreditation program. This represents a major milestone in CIH Canada's goal of helping to establish professional standards for the housing sector. CIH Canada also celebrated 15 graduates that successfully completed their qualifications in 2022.
The 2022 Housing Professionals Mentorship Program (HPMP) cohort was the largest yet. 80 mentors and mentees from across Canada were matched to help build networks, develop leadership skills, share learnings about community housing and homelessness, and more.
In July of 2022, CHRA thanked former Executive Director Jeff Morrison for over 6 years of accomplished service, as he headed off to a new executive position. In early 2023, CHRA will welcome a new Executive Director to lead us in continued success.
Building on our achievements in 2023
Continuing to support the National Indigenous Housing Coalition. The Indigenous Caucus had the honour of helping to bring stakeholders together in-person in Vancouver and on-line for the National Indigenous URN Housing Stakeholder Gathering on November 25, 2022. The Caucus and CHRA will continue to support the Coalition as needed during its formation.
CHRA is committed to supporting the Coalition and its objectives. Read our statement of support.
Find out how Indigenous-led organizations can join the Coalition and how the wider sector can support it.
Advocating for the priorities identified in the Blueprint for Housing. CHRA will continue to advocate for the community housing sector by building on the priorities identified in the Blueprint. Our most urgent priorities, identified in consultation with CHRA members are:
The creation of a fully funded Indigenous-governed Urban, Rural and Northern (URN) Indigenous Housing Centre that develops and delivers the URN Indigenous Housing Strategy. As noted above, CHRA will support the goals of the National Indigenous Housing Coalition.
The creation of a national Property Acquisition Program to support community housing providers with pre-approved CMHC funding and financing to buy existing rental properties and preserve affordability.
That the government increase the value of grants for the creation, repair, and renewal of affordable housing through National Housing Strategy loan programs to offset skyrocketing borrowing costs.
Hosting our first in-person Congress since 2019. We're looking forward to seeing you at the 2023 CHRA National Congress in Winnipeg April 18-20. We're excited to bring Canada's community housing sector back together under the same roof for three days of learning, networking, and engaging with housing leaders from across the country.
Communicating with the federal government. We will continue to push for legislation that improves National Housing Strategy Programs, gets affordable housing built faster, and advocates for measures that build capacity and sustainability in the community housing sector. Our advocacy priorities pulled from the Blueprint for Housing will continue to be in the forefront of our government submissions, where appropriate.
Continued development of CIH Canada offerings. CIH Canada has launched registration for the winter cohort of its revamped learning program and is excited to offer a Study Tour of New York City this spring (Please note: registration for the Study Tour is already full).
HPMP looks forward to bringing the 2023 cohort and alumni together in person. In 2023, the Housing Professionals Mentorship Program is excited to resume in-person programming where possible and continue one of CHRA's most successful programs.
Increased member engagement. In 2023, we plan to increase our member engagement with regular briefings and consultations to provide updates on our ongoing advocacy efforts and programs, and to get member input to inform our advocacy priorities.
The CHRA Board and staff team are excited to continue our work with and for the community housing sector in 2023. Stay tuned to our communications channels including our Flash newsletter, Twitter, Facebook, and LinkedIn profiles, and the CHRA blog to stay up-to-date!