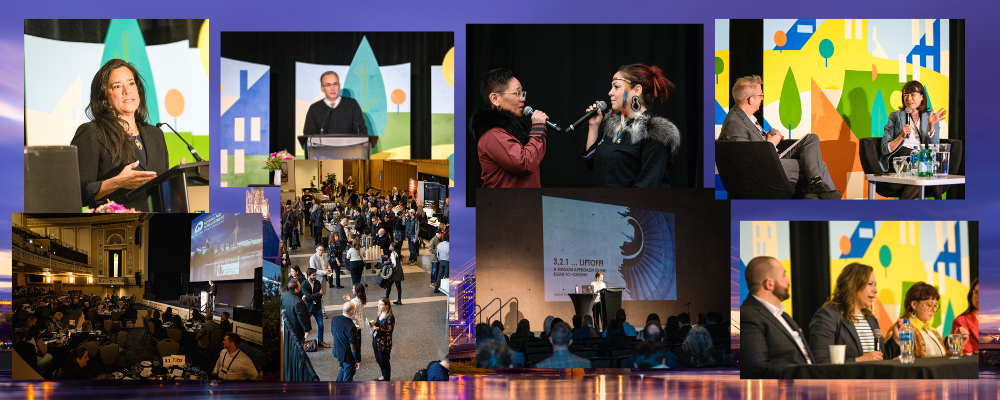 Highlights from the 2023 CHRA National Congress in Winnipeg
11 May 2023
By Leah Blunden, CHRA Communications Manager
From April 17-20, we welcomed over 500 attendees to our 55th Annual National Congress on Housing and Homelessness in Winnipeg with our event partner the Manitoba Non-Profit Housing Association (MNPHA). This was our first in-person Congress since 2019 and the excitement was palpable as people came back together with sector colleagues, met face-to-face for the first time after months or years of virtual meetings, and met some of the many new sector professionals who attended.
Our team put great care into the planning of the 2023 Congress, but what really made it such a success was the attendees. You can't plan or artificially create the electricity that was in the air throughout the event. Thank you to everyone who attended and shared their expertise and enthusiasm – you truly made this Congress one to remember!
Read on to see some highlights from the 2023 Congress.
Pre-Congress courses
Congress events began on Monday, April 17 with Pre-Congress courses, presented in cooperation with CIH Canada. This year's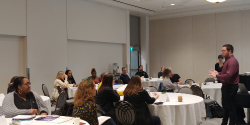 courses covered a diverse set of topics important to the housing sector: Compassion Fatigue, Burnout and Retention in Affordable Housing, The Curious Case of Housing Policy in Canada, and Using Media to Increase Your Clout in the Housing Sector.
The courses featured a new-to-CHRA lineup of expert instructors and were well-received by learners. We were happy to collaborate with CIH Canada to offer these learning opportunities and look forward to working together to provide more learning opportunities for housing professionals.
Indigenous Innovation Forum
We were proud to offer our first-ever Indigenous Innovation Forum on April 18 as part of our Pre-Congress events. Combining the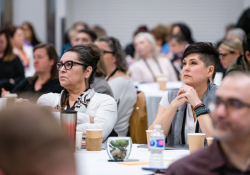 Indigenous Caucus Day and Innovation Forum of past years, the event offered a day of learning and discussion about Indigenous Innovations in Housing.
Attendees learned from a variety of Indigenous housing providers, experts, and researchers including Keynote Speaker Nikki Komaksiutiksak, Executive Director for Tunngasugit, an organization that offers front-line services to assist Inuit transitioning to life in the city, Indigenous housing researcher and expert Dr. Daniel J. Brant, and more.
We wrapped up the Forum with an incredible throat singing performance by Nikki Komaksiutiksak and Karen Panigoniak of Nunavut Housing Corporation.
Special events
Throughout Congress, our special events brought attendees together to learn, reflect, and celebrate our sector.
We officially kicked off Congress at the Opening Ceremonies on April 19. CHRA Executive Director Ray Sullivan and MNPHA Executive Director Christina Maes Nino welcomed the packed house at the RBC Convention Centre and welcomed Federal Housing Advocate Marie-Josée Houle who addressed the audience on the topic of housing as a human right, and Romy Bowers, President and CEO of CMHC, who spoke with Ray Sullivan and took questions from CHRA members.
That evening, we gathered at the Metropolitan Entertainment Centre for the President's Reception to honour our 2023 CHRA Award winners and engage with guest speaker Althia Raj while enjoying a wonderful meal and good company.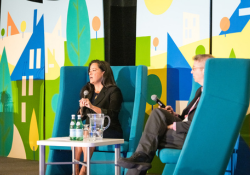 We opened the final day of Congress with our Keynote Speaker, The Hon. Jody Wilson-Raybould
Former Member of Parliament, Former Minister of Justice and Attorney General of Canada, and Bestselling Author. Jody spoke on the topic of True Reconciliation, sharing her personal experience on the topic and how allies can better work towards Reconciliation.
The Closing Ceremonies that evening marked the official end of Congress, but the beginning of the Social Housing and Human Rights Conference. Attendees enjoyed an address from Canadian lawyer, Global Director of The Shift, and the United Nations special rapporteur on adequate housing (2014-2020), Leilani Farha at the Canadian Museum for Human Rights.
Attendees gathered more informally throughout the Congress at various receptions including the Indigenous Caucus social event, the Congress Meet and Greet and the Community Housing Transformation Centre's Meet and Greet Afterparty.
Sessions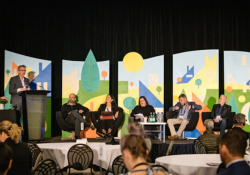 Our Congress sessions covered a wide range of topics of importance to the housing sector including innovations to help the sector realize the right to housing in Canada case studies, tools, and insights on affordable housing development, inclusive design for supportive housing, addressing discrimination in housing, refreshing the National Housing Strategy and a stream of sessions dedicated to the interests of Manitoba-based attendees organized by our event partners MNPHA.
Thank you to our presenters and session organizers for all their hard work in making our amazing session lineup possible!
Hosting Canada's housing and homelessness sector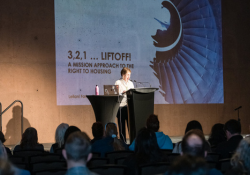 The CHRA Congress brings together hundreds of housing professionals from across the country. Acting as a convener allowed us to support sector organizations to hold gatherings that enabled efforts towards meeting our shared goals. In addition to our partnering with MNPHA on Congress and CIH Canada on Pre-Congress courses, housing events held at Winnipeg's RBC Centre the week of April 17 included:
Save the date!
The 2024 Congress will be taking place April 9-11 in Fredericton, New Brunswick. We hope to see you there!
Keep an eye on CHRA's Flash newsletter and social media channels for more information about the 2024 Congress and how to submit your session proposal.
See photo highlights of the 2023 Congress here. Thank you once again to all who attended, contributed, sponsored, and exhibited for making this event such a success!