CHRA Member Profile: Options Bytown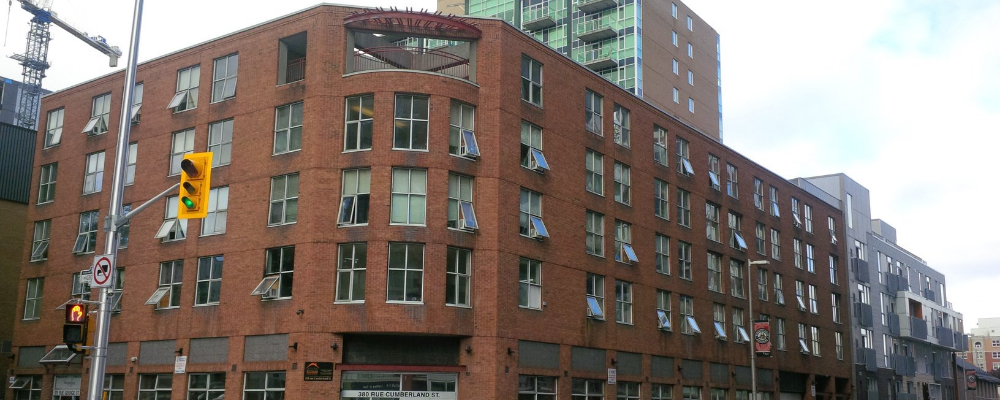 'CHRA Member Profiles' is a new feature on the CHRA blog that examines innovative service models and approaches in the community housing sector.
Options Bytown serves those experiencing homelessness by providing safe, stable, permanent housing and supports. In this CHRA Member Profile, we'll learn more about Options Bytown and its dedication to serving its community.
Beginnings
Leading up to the International Year of Shelter for the Homeless in 1987, a group of concerned citizens who would become Options Bytown's founders came together to create a housing solution for people who were experiencing homelessness. Their hard work led to Options Bytown opening its doors in Ottawa's Byward Market neighbourhood in 1989. The organization has been going strong and expanding its reach ever since.
Today
Options Bytown currently houses 128 residents across four supportive housing sites in downtown Ottawa (including its original location). The organization also supports over 150 people who have experienced chronic homelessness to maintain permanent housing with its 'Housing First' program, and provides tenant supports to over 1,000 people per month at eight resource centres located in Ottawa Community Housing buildings.
Housing
Options Bytown serves some of its community's most vulnerable members. The organization's only criteria for housing eligibility is homelessness. Executive Director Catharine Vandelinde tells us that they "provide low-barrier access supportive housing for adults".
Two of the organization's residences offer support services to residents 12 hours a day, seven days a week. Their housing program utilizes a peer-based approach to provide overnight supports, designating an individual resident to be the main support contact on a given night.
Options Bytown residences help build community and a sense of belonging for tenants by offering activities and opportunities for engagement. Creativity is encouraged, and art is a big component of its communities, with resident-painted murals adorning many of the buildings' common spaces.
Housing at Options Bytown is truly permanent; once a resident moves into their unit, they are free to stay as long as they need or want to. Of this policy, Catharine says "As soon as you know there's a clock ticking, it's [finding permanent housing] all you can think about. You can't think about anything else that matters. As soon as people move in, the first thing we tell them is 'this is your home for as long as you want it to be'". She tells us that they have a few tenants who have been with them since Options Bytown opened in 1989.
'Housing First' supports
Options Bytown's mobile 'Housing First' team visits clients on the street, in shelters, encampments – "wherever they are" says Catharine, to offer supports that help connect them with community partners to help them find and maintain permanent housing. Rent supplements are attached to the program, meaning that clients can access housing anywhere in Ottawa, so long as the rent falls within the affordability range determined by the supplement program.
Once clients are housed, the Housing First team provides supports in their homes to help maintain their housing. The program currently supports over 150 individuals who have previously experienced chronic homelessness.
Resource Centres
Recognizing that maintaining housing can be challenging for individuals who have experienced chronic homelessness, Options Bytown has partnered with Ottawa Community Housing Corporation (OCH) to run resource centres at eight OCH buildings in Ottawa.
Options Bytown staff operate these centres Monday to Friday. Catharine tells us that this program "is really focused on preventing people from becoming homeless in the first place". Staff work closely with clients to connect them with any supports they may need, such as mental health services and food security programs.
The organization also has two housing workers onsite at Safer Supply program locations in pharmacies and at a safe injection site. Catharine tells us: "We've found that once people are accessing prescribed opioids, they're able to think about other things. One of the first things they think about is needing a place to live. With the housing workers onsite, they work directly with them to help them access housing, and that has worked really, really well".
Options Bytown's dedicated team makes an immeasurable impact on their community by serving some of Ottawa's most underserved citizens. CHRA is proud to count Options Bytown among its members.
Learn more about Options Bytown.
Have a suggestion for a CHRA Member Profile? Contact CHRA Communications Manager Leah Blunden at lblunden@chra-achru.ca.