10 Ways to Make the Most of National Indigenous Peoples Day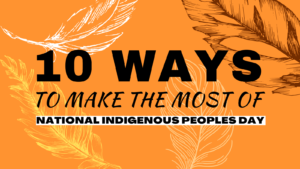 June 21, 2021
Each year on June 21st, Indigenous peoples across Canada come together to celebrate National Indigenous Peoples Day (NIPD) – June 21st was chosen as the date in 1996 as it falls on the Summer Solstice. This is a day to recognize the unique and diverse cultures and heritage of First Nations, Inuit, and Métis peoples. Joining in these celebrations is a great way to learn and support Indigenous peoples locally. The CHRA Indigenous Caucus invites you to celebrate National Indigenous People's Day, especially during a difficult time for Indigenous peoples across Canada. Here are 10 ideas to help you make the most of NIPD 2021:
Discover your local listings of National Indigenous Peoples Day celebrations and attend with family, friends, colleagues. Enjoy a virtual edition of the Summer Solstice Festival.
Read and discuss the 10 Guiding Principles of Reconciliation from the Truth and Reconciliation Commission Report (.pdf) with family and colleagues.
Learn about the Indigenous history of where you live or work: native-land.ca is a great place to start! It maps out the different territories, languages and treaties that were and are occupied by Indigenous peoples of those lands.
Learn some greetings in the Indigenous language of where you live and/or work.
Seek out an Indigenous restaurant or food truck. If there are none around you, try out some recipes! Here is a great one for Bannock that is "elder approved".
Listen to an Indigenous podcast, some Indigenous music, Indigenous comedy, or watch an Indigenous tv show or movie. Below is a list of our favourites:
Visit an art gallery that features Indigenous art.
Support your local Indigenous entrepreneurs.
Read a book by an Indigenous author. Indigenous Corporate Training Inc. has some great e-books. Some of our favourite authors include Jesse Thistle, Eden Robinson, Richard Wagamese, Lee Maracle, and Waubgeshig Rice. There are so many great books out there for you to choose from!
Show your support for a For Indigenous, By Indigenous Housing Strategy by visiting and endorsing our website at forindigenousbyindigenous.ca.