Blog Series | Social, Non-Profit and Affordable Housing
Our blog series provides first-hand accounts, insights and perspectives by our staff, members and board members on issues and news related to social, non-profit and affordable housing in Canada. 
Members can submit blogs for consideration. Send an email with your blog idea or submission to info@chra-achru.ca. Submissions should be a maximum of 750 words, written in first person and address a housing-related issue.
---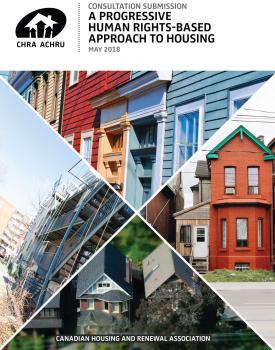 By Dominika Krzeminska, Director, Programs and Strategic Initiatives, Canadian Housing and Renewal Association
On November 22, 2017 the federal government released the National Housing Strategy (NHS), a $40 billion plan with an aim to help ensure that all Canadians have access to housing that meets their needs and that they can afford.
Chapter 1 of the NHS, Housing Rights are Human Rights announced that the federal government is taking "additional steps to progressively implement the right of every Canadian to access adequate housing" – a long-awaited action years after Canada had signed onto multiple international treaties, including the United Nations Universal Declaration of Human Rights and the International Covenant on Economic, Social and Cultural Rights, which recognize housing as a human right.