2018 has seen a significant amount of change and investment in social, non-profit, and affordable housing across the country.
In the context of a dynamic and changing housing policy framework across the country, the 2018 Affordable Housing Budget Expenditure Highlights in Canada report examines the commitments made by provinces and territories in their respective 2018-2019 budgets and highlights recent housing announcements and initiatives underway within specific provinces and territories.
Although it is not meant to be exhaustive of all measures and policies directly impacting the social, non-profit, and affordable housing sector, the aim of the report is to provide a snapshot of budgetary and related housing developments thus far in 2018, and where possible, offers a glimpse into expected high level housing policy developments in each jurisdiction.
It should also be noted that in November 2017 the federal government released the National Housing Strategy, which contained $40 billion in investments in affordable housing over the next 10 years.
A number of measures contained in the Strategy require cost-matching from provinces and territories. In April 2018, federal, provincial and territorial Ministers responsible for housing (with the exception of Québec) endorsed a multilateral Housing Partnership Framework. Bilateral agreements have begun to be signed, which will specify how provinces and territories will deliver and cost-match federal funds for National Housing Strategy programming.
Social and Non-Profit Housing Units by Canadian Jurisdiction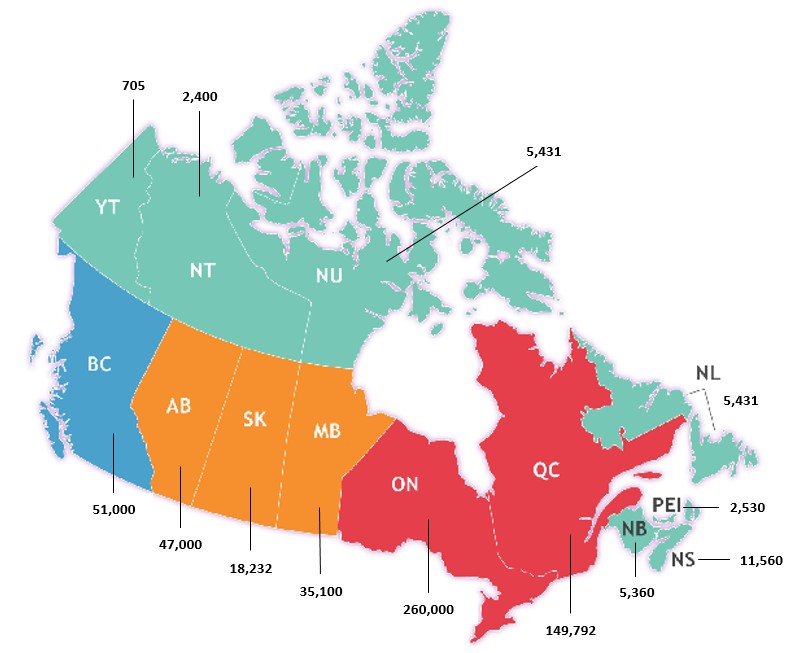 Newfoundland and Labrador
Budget 2018-2019 Expenditure Highlights
$10.2 million for maintenance, repair and upkeep of public housing properties, with $3.6 million allocated to modernize and renovate public housing
$8.6 million for the Supportive Living Program and the Provincial Homelessness Fund which partners with the community sector to prevent homelessness
$11.8 million to support initiatives and non-profit groups engaged in the delivery of transitional and emergency housing for those fleeing domestic violence Increase funding by $2 million for the Rent Supplement Program to increase the number of rent supplement units and to support the portable rent supplement pilot program
An additional $2.7 million investment to leverage federal funding under the Investment in Affordable Housing Agreement
Investment in Affordable Housing
The Governments of Newfoundland and Labrador and Canada provided conditional approval in July 2018 to cost-share the development of 93 new affordable housing units throughout the province, including 13 fully accessible units. The $6 million investment through the Investment in Affordable Housing will bring the total of new affordable units created through agreement since 2003 to 1,700.
What to look out for
The Government of Newfoundland Labrador launched their "The Way Forward" plan in 2016 which outlined a vision for sustainability and growth in the province. As part of this plan, the government committed to a review of the Newfoundland and Labrador Housing Corporation's programs and services.
Infrastructure Investments
British Columbia
Budget 2018-2019 Expenditure Highlights
In terms of social and non-profit housing, the plan outlined the following investments:
$141 million over three years and $734 million over the next ten years to build units for women and children fleeing domestic violence
$1.2 billion over ten years to building 2,500 new supportive homes for people struggling or at risk with homelessness
$116 million over three years to increase rental assistance programs
$1.1 billion over ten years to modernize existing affordable housing stock, including increasing energy efficiencies
National Housing Strategy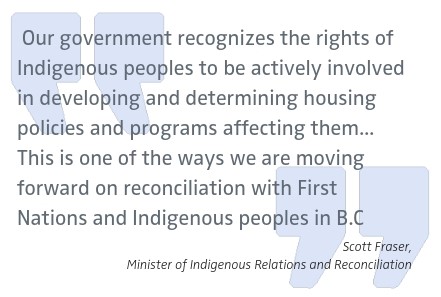 The Governments of British Columbia and Canada signed a 10-year cost-sharing bilateral agreement in July 2018 that will invest $990 million to protect, renew and expand social and community housing, and support housing repair, construction, and affordability.
Indigenous Housing