Submit a proposal to present at the 2019 National Congress on Housing and Homelessness
Wednesday, August 15, 2018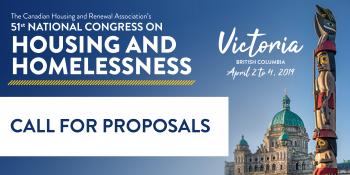 We are seeking proposals for our 51st National Congress on Housing and Homelessness, from April 2 to 4, 2019 in Victoria, BC. The deadline to submit is October 28, 2018.

This event provides an exceptional opportunity to meet and exchange with a growing body of practitioners, policy makers, front-line workers, government officials and key stakeholders within the social, affordable, and non-profit housing sector. Congress convenes over 550 delegates and sector leaders from Canada and other countries for three days of learning and networking.

Each year the we develop a unique program with concurrent workshops, plenaries, mobile tours and keynotes to meet the educational needs and interests of our members and participants from across the affordable housing and homelessness community. At this time, we are inviting interested participants to submit proposals for concurrent sessions.

If you have any questions please do not hesitate to connect with Dominika Krzeminska, Director, Programs & Strategic Initiatives, at (613) 594-3007, ext 10 or at dkrzeminska@chra-achru.ca.