For Indigenous, By Indigenous National Housing Strategy released by CHRA and its Indigenous Housing Caucus Working Group
Download A For Indigenous, By Indigenous (FIBI) National Housing Strategy (PDF)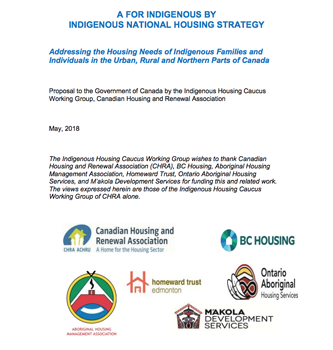 Calling on the federal government to address the housing needs of urban, rural and northern Indigenous families and individuals, including the disproportionate representation of Indigenous Peoples living in homelessness and core housing the Canadian Housing and Renewal Association and its Indigenous Housing Caucus Working Group released A For Indigenous, By Indigenous (FIBI) National Housing Strategy.

Despite the commitment to work towards co-developing three distinctions-based First Nations, Inuit and Métis Nation housing strategies included in the federal National Housing Strategy unveiled in November 2017, the Government of Canada's distinctions-based approach risks creating a large service gap for the 87 per cent of Indigenous Peoples not living on reserve lands, but in the urban, rural and northern parts of Canada.
To eliminate the service gap, the FIBI paper asserts that the federal government must acknowledge and fund a fourth strategy for Indigenous households in need of housing in urban, rural and northern areas.