The Top 10 Things to Watch for in 2021 for the National Community Housing Sector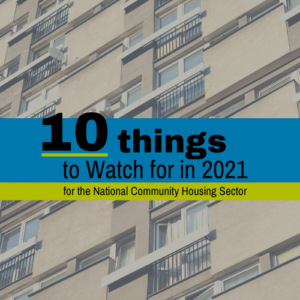 January 6, 2021
As the world welcomes 2021 with a certain amount of hope that things will be much better than the year just passed, a New Year is a traditional opportunity to prognosticate on the year ahead. For the community housing sector in Canada, there are some developments that we can say with some degree of certainty should pass, and others that the community housing sector should watch for very closely. In no particular order, here are the Top 10 developments that I and the Canadian Housing and Renewal Association (CHRA) will be watching for in the community housing sector for 2021:
1. Is this the year we finally see an urban, rural and northern Indigenous housing strategy announced? Over the past few months, a Parliamentary Committee has been holding hearings into the state of urban, rural and northern Indigenous housing in Canada. These hearings are in part designed to provide Minister Ahmed Hussen with expert feedback on how to respond to the directive in his 2019 Mandate Letter to develop an urban, rural and northern Indigenous housing strategy. Additionally, the Parliamentary Secretary to Minister Hussen, Adam Vaughan, has repeatedly said that an urban, rural and northern Indigenous housing strategy is expected in the 2021 Budget. Could this be the year we finally realize this longstanding objective? After years of hard work on the part of the CHRA Indigenous Caucus, we are cautiously optimistic that this will in fact be the year.
2. The National Housing Council and Federal Housing Advocate get down to work: In November 2020, the federal government announced the composition of the new National Housing Council and announced a formal search for the new Federal Housing Advocate – both structures were first unveiled in 2019 in the "National Housing Strategy Act" that legislated the progressive right to housing in Canada. In 2021, we expect both bodies to get to work and begin setting forth their key priorities with regard to implementing the right to housing in Canada – what those priorities will be will provide interesting insight into how the right to housing will be operationalized in the years ahead. (Although we do not know exactly know when the Federal Advocate will be named, CHRA has learned that the Advocate's office is well advanced in being established, and that dedicated staff have already been hired).
3. Changes coming to the National Co-Investment Fund: When the $14 billion National Co-Investment Fund was first launched in 2018, it immediately came under fire for its difficult application process, its lack of upfront clarity, its long approval timelines, and its rigid eligibility criteria. Over the latter half of 2020, CMHC has engaged with consultants to develop fixes to the many problems plaguing the Fund. We expect most of those changes to be implemented within the first few months of 2021; CHRA will watch to see if those changes will result in greater access to the program, or whether additional improvements are required.
4. An expansion of the Rapid Housing Initiative: In September 2020, the federal government announced $1 billion for a new Rapid Housing Initiative, designed to quickly increase the supply of affordable housing via grants for land, acquisitions of existing properties, and modular housing. CHRA and partners such as the Federation of Canadian Municipalities have made clear that although welcome, $1 billion is simply not enough. We are hopeful that in 2021, the federal government will increase resources through the Rapid Housing Initiative so that housing providers can not only increase housing supply but will have sufficient lead time to ensure that quality proposals can be developed and submitted.
5. An end to chronic homelessness in Canada – how will we get there? In the October 2020 Throne Speech, the federal government announced a new national objective to end chronic homelessness in Canada. Although a laudable goal, the Speech contained no specifics nor timelines as to how we would reach that objective. In 2021, we can expect greater discussion and consultation over how this objective can be met, and in what timeframe. CHRA will be launching a process this year to engage our members in this discussion, and to identify the resources and needs required by the community housing sector to help meet that goal.
6. The first formal evaluation of the National Housing Strategy will be released: When the National Housing Strategy Act was passed by Parliament in 2019, one of CHRA's key recommendations that was included in the legislation was a requirement for the federal government to report regularly on the progress of the National Housing Strategy, and ideally identify strengths, weaknesses and gaps within the Strategy. As per the legislation, the first such evaluation is required in 2021. Although CHRA has had preliminary discussions with CMHC on this evaluation, we do not yet know its exact format or content. If done right, this evaluation will provide instructive guidance on where the Strategy needs to be bolstered and improved, and could be helpful in setting forth future direction of federal housing policy.
7. Watching the impact of new technologies and expansion of housing research: One of the developments that flew under the radar in 2020 was the uptick in research and technological opportunities in the community housing sector. New and growing technologies such as modular housing or 3D printing have the opportunity to revolutionize how affordable housing is built. Additionally, new research programs and collaborations came online in 2020, which has the potential to provide the community housing sector with increasing innovation opportunities for 2021 and beyond.
8. New leadership at CMHC: Evan Siddall, CMHC President & CEO, had an interesting year in 2020. First, he confirmed that he would be leaving the post of CEO at the end of his term on December 31, 2020. However, because the federal government had not yet announced his successor, he announced in December that he would stay on until his successor was named in 2021 – we do not know precisely when that will be. Regardless, we can expect at some point in 2021 that there will be new leadership within CMHC. Will the new CEO continue to reorient CMHC to focus on the community and affordable housing sector? Clearly that is our hope; continuing a strong relationship with the new CEO will be one of CHRA's key priorities.
9. Will there be a federal election? One of the key questions we will be watching closely is whether the Trudeau minority government will survive 2021, or whether there will be an election. Opposition parties were hesitant to force an election in 2020 in the midst of the COVID pandemic, but as pandemic restrictions are expected to ease in 2021, the chances of an election increase, and with it, the possibility of a new federal government. If there is a federal election, CHRA will be ready to deliver key messages to all candidates, just as we did in 2019.
10. The COVID pandemic – will it end? Of course, the biggest development in 2020 was the COVID-19 pandemic; a tragic situation that changed how we all live, work and play. With vaccines now being rolled out, when and how will current restrictions be lifted? Will we return to some degree of normality in 2021? I certainly don't have that answer, but for housing providers across Canada, it is a key question that will impact every aspect of our daily lives.
As 2020 so dramatically revealed, making predictions about the year ahead is a difficult endeavor – would any of us have guessed a year ago how the world unfolded in 2020? But what can be reasonably assumed from this list is that there are significant changes coming to the national community housing sector in 2021. As always, CHRA is well positioned to respond to these and other challenges, so that we can move ever closer to our goal of ensuring Housing for All in the year ahead.
– Jeff Morrison is Executive Director of the Canadian Housing and Renewal Association