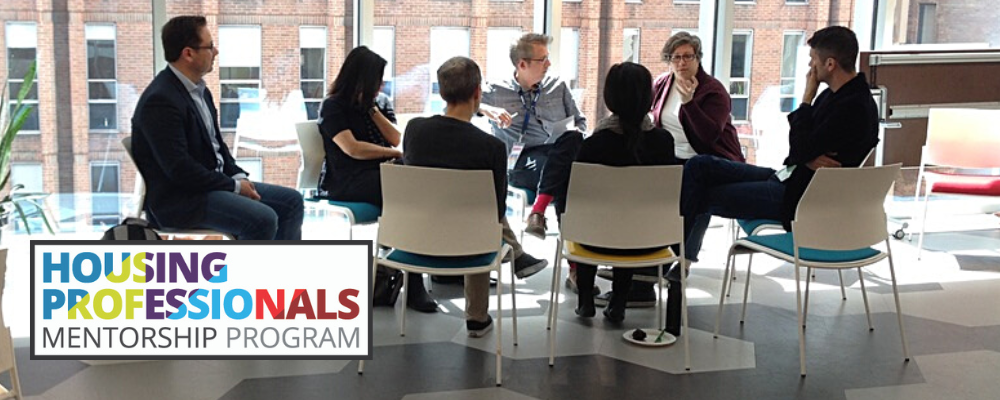 The Housing Professionals Mentorship Program
The Housing Professionals Mentorship Program (HPMP), administered by CHRA, connects today's leaders in community housing with the leaders of tomorrow. Canada's community housing sector is in a period of transformation; HPMP is working to help strengthen and build sustainability into the sector. Read on to learn more about HPMP.
What is HPMP?
HPMP matches experienced housing professionals with those earlier in their careers in mentoring relationships that benefit both parties. Participants also get access to a lineup of diverse programming in topics ranging from housing policy and advocacy to Reconciliation with Indigenous peoples, and more.
HPMP works to strengthen leadership in the housing and homelessness sector through five priorities:
Building strategic networks and community
Developing leadership competencies
Igniting passion and interest in housing
Supporting career development
Enhancing knowledge around core housing themes
The Program's work is centred around leadership, community, and making the housing sector an exciting and welcoming place to build a career.
What does HPMP offer?
The Program runs from February to July each year. During that time, mentors and mentees meet each week. Live sessions complement the mentoring relationships with educational opportunities based around Program priorities, like building leadership competencies and enhancing strategic networks. The live sessions:
delve into what makes an effective mentoring relationship
explore how to effectively set goals to help participants get the most out of the program and their careers
host Indigenous experts to discuss the relationship between Reconciliation and housing
get participants working together to solve systemic issues impacting the sector
break down the silos between the work being done on homelessness and housing
build advocacy competencies so that HPMP participants can advocate for our sector
and more
Participants also receive professional development opportunities including independent learning courses, networking events, access to HPMP's growing alumni network, exclusive access to HPMP sessions at CHRA's Annual Congress, and paid opportunities to author our Congress summary session papers.
HPMP helps mentees expand their knowledge, grow their networks, and develop their housing careers. Mentors gain fresh new perspectives and get the chance to directly contribute to the future of the housing sector by helping build up the next generation of housing leaders.
Past participants have told us:
 I 100% think that [HPMP] enhanced my understanding of the housing sector… there's just so much to learn, and I think it really helped me reframe my perspective on complex housing issues.
- 2022 participant
This was a fantastic program that I appreciate having the opportunity to be a part of. My mentor was supportive, informative, and willing to share information, expertise, and contacts!
- 2022 participant
The program is an excellent opportunity to connect with a network of diverse housing professionals across Canada. It is a reminder of why people choose this sector and inspired me to keep building it up.
- 2021 participant
The mentorship program supports a sharing of knowledge and experience that is valuable to both the mentor and mentee. Building networks in the housing sector is very necessary and this program supports that concept. Excellent program.
- 2019 participant
To hear more about what recent participants had to say about the value of the program as a tool to build their knowledge, careers, and sector capacity, check out our new video.