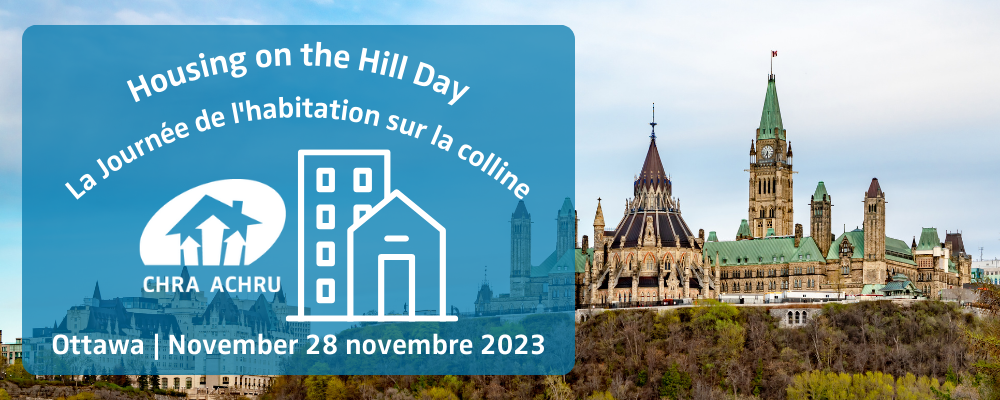 Housing on the Hill Day 2023
Millions of Canadians – particularly those with lower incomes – have been experiencing rapidly rising housing costs, driven in large part by an extreme housing supply shortfall. The impacts of Canada's housing shortfall disproportionately impact Indigenous peoples, newcomers, women-led households, youth, and seniors.
This year, on the heels of National Housing Day, Housing on the Hill will bring together CHRA members, housing professionals, and sector partners to advocate for a "Team Canada" approach to solving the housing crisis. Read on to learn more.
What is Housing on the Hill Day?
Housing on the Hill Day is an annual event organized by CHRA that facilitates meetings between housing professionals and Members of Parliament to discuss issues of importance to the social and non-profit housing sector. This year's event is taking place on Tuesday, November 28.
Leading up to the event, attendees will be placed into advocacy teams based on similarities in the regions and/or communities they serve, the type of housing/services they provide, their areas of advocacy interest, etc. Participants will be invited to attend a free meet and greet event on the evening of Monday, November 27 to meet their advocacy teams.
We're also offering an in-person advocacy training session on Monday, November 27. Registration for this event can be purchased along with your Hill Day registration. Whether you work for a housing provider, a sector association, or in government, this session will equip you with the knowledge and skills to be an advocate for meaningful housing policy change.
Participants will meet with MPs throughout the day while we offer ongoing programming at the Delta Hotel including:
an all-party political panel that will provide insight into the parties' views on addressing the housing crisis
results from our econometric study on affordable housing and the Canadian economy
a session on urban, rural, and northern Indigenous housing, and more!
What are our advocacy priorities?
Our 2023 Housing on the Hill Day advocacy priorities reflect our consistent recommendations to government from the past year, most recently included in our September letter to Deputy Prime Minister and Minister of Finance Chrystia Freeland ahead of the 2023 Fall Economic Statement.
According to the 2021 census, over 1.5 million households are in core housing need, meaning they live in inadequate or unaffordable housing, and cannot afford alternatives. Housing costs have risen dramatically since 2021, undoubtedly increasing the number of Canadian households in core housing need. In other words, a growing number of Canadians need community housing offered at a more affordable rent than the market can provide. Our Housing on the Hill 2023 advocacy priorities offer real solutions to address the affordable housing deficit.
Priority 1: To ensure a stable pipeline of community housing projects
Canada's economic picture has shifted dramatically since the creation of the National Housing Strategy in 2017. Inflation, the rapid rise of interest rates, and rising building costs have contributed to substantially increased costs to create housing. At the same time, federal funding has dwindled significantly. Yet, federal housing policies and programs have not adapted to the current economic context.
CHRA recommends the government prioritize three actions:
Restore Seed Funding
Commit to a multi-year Rapid Housing Initiative program (RHI)
Re-capitalize the National Housing Co-Investment Fund (NHCF)
Priority 2: To ensure that housing for urban, rural, and northern Indigenous Peoples is delivered through NICHI
Canada's United Nations Declaration on the Rights of Indigenous Peoples Act requires the Government to implement UNDRIP in cooperation with Indigenous peoples; the Indigenous Caucus at CHRA strongly believes this necessitates a for-Indigenous, by Indigenous approach.  Only an Indigenous-led approach can adequately deliver holistic, serviced-based community housing that empowers Indigenous communities.
Through NICHI, the federal government has an ideal partner to work with to deliver Canada's URN Indigenous Housing Strategy to meet the needs of the majority of Indigenous peoples, who live away from Indigenous-governed communities, complementing, not competing with the existing distinctions-based housing strategies.
Priority 3: To ensure that the government invests in preserving housing affordability
For every affordable home created between 2011 and 2021 with support from federal programs, we are losing nine affordable rentals in the private market. Without a national plan to protect existing affordable rental supply, we're actually falling behind.
CHRA is working with community housing sector partners to create an Affordable Rental Preservation Trust, with support from private and charitable impact investors, and private market asset owners who are all interested in supporting a national plan to protect existing affordable rental supply. Government equity investment and low-interest lending will help retain up to 10,000 existing moderate rent homes.
We ask that the government support the Affordable Rental Preservation Trust by:
allocating an initial investment of $2 billion in low-interest loans,
matching $500 million in private impact investment with an interest-free public equity investment of at least $500 million, and
exploring tax incentives for private rental real estate owners to sell assets to the non-profit sector.
Priority 4: To ensure that the government creates a "Team Canada" housing industrial strategy
The federal government cannot fix Canada's housing supply shortage alone. We need a "Team Canada" housing industrial strategy: rallying all levels of government, the affordable housing sector, and private organizations to solve Canada's housing shortfall.
To do this, the Government of Canada must use all the policy levers at their disposal to influence other orders of government and critical partners. Central to this approach must be a commitment to doubling the proportion of Canada's affordable housing stock to support the increasing number of Canadians that need affordable housing.
Attendees will receive an information package ahead of the event that further explores our advocacy priorities and provides talking points to use during MP meetings.
Don't miss your chance to meet directly with MPs to advocate for some of the sector's most pressing issues.