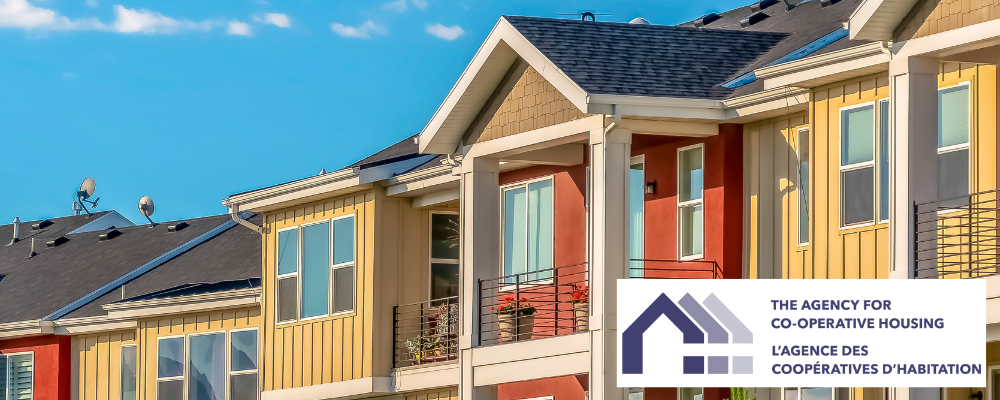 CHRA Member Profile: The Agency for Co-operative Housing
Setting housing co-ops up for success with data
Housing co-operatives offer a refreshing alternative to traditional housing models by placing power in the hands of the residents themselves.
But housing co-ops also face a unique set of challenges, such as balancing the financial demands of maintenance and repairs and arriving at solutions to problems amidst diverse perspectives.
And for housing co-ops to make informed decisions, they need data.
Part of the Agency for Co-operative Housing's mission is to make housing co-op data accessible and useful to those who call these communities their homes.
From Data to Action
As the trusted steward of the Canadian federal government's co-operative housing programs in British Columbia, Alberta, Ontario, and Prince Edward Island, the Agency collects financial and operational data from our client co-ops each year.
Afterward, these clients receive a suite of plain-language reports that transform their data into invaluable insights.
By packaging and presenting this data with co-ops, we can provide boards of directors and members with a holistic understanding of their financials and operations. This approach helps co-op communities gauge their performance and identify areas for improvement.
Our Plain-Language Financials Report interprets audited financial statements in a way that is much easier to digest, visually showing where the co-op's money comes from and where it goes.
The Performance Report shows how co-ops are doing now in comparison with past years and by comparing them with similar co-op peers using metrics like vacancy loss, arrears, and maintenance spending as a share of operating costs.
Finally, our Risk Assessment Report identifies factors or trends that pose financial risks to co-ops, like property conditions or bad debts, along with recommendations for how to reduce that risk.
Online Tools
Since the Agency's early years, we've invested in developing online tools to help co-ops access the data we've collected in our Co-op Housing Agency Information System (CHAIS).
HomeRun is a website where Agency clients can compare their co‑op's performance against different peer groups through benchmarking, while also drawing inspiration from other co‑ops' stories on good practices.
More recently, we've developed tools to help co-ops enrolled in the Federal Community Housing Initiative (FCHI-2).  As part of their participation in the program, co-ops must complete an annual Action Plan that outlines goals to improve their operations across several areas.
The Agency developed an online Self-Assessment Questionnaire that guides co-ops through a detailed look at their operations, financial viability, sustainable practices, and more, to help spark their thinking. This tool then proceeds to another one that allows co-ops to submit their Action Plan to CMHC and update it each year.
We have also launched a new online calculator for co-ops in FCHI-2 that allows them to easily track and update the amount of rental assistance they are eligible to receive.
A Client-Focused Approach
At the heart of our organization lies a strong commitment to our client co-ops.
We understand that housing co-ops are unique organizations that are composed of everyone who resides within them.
The Agency's goal is to empower every individual within the co-op, ensuring that everyone can understand and participate in the decisions that shape their lives.
Learn more about the Agency for Co-operative Housing.
This post was written by the Agency for Co-operative Housing.