Lifetime Achievement Award
To recognize an individual with many years of service who has had a major impact on the affordable housing sector in Canada.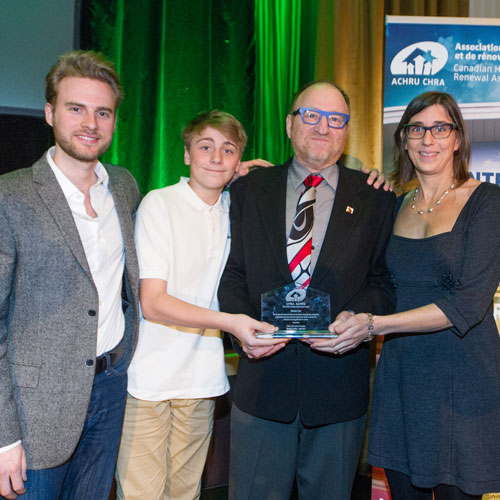 Dennis Carr
Senior Advisor, Cahdco & Principal, DCarr Community Solutions
Over the last twenty-five years, Dennis Carr has worked in the federal, municipal and non-profit sectors, helping to create thousands of affordable homes. From 1990 to 2009, Dennis was Development Manager for Centretown Citizens Ottawa Corporation (CCOC) and the Centretown Affordable Housing Development Corporation (Cahdco). During this period Dennis also managed the Surplus Federal Real Property Homelessness Initiative (SFRPHI), where he was responsible for strategic property acquisition for affordable housing and homelessness projects.
From 2009 to 2014, as Assistant Director of Social Infrastructure for the City of Vancouver, Dennis helped City Council fulfill its mandate to alleviate homelessness, renew the City's existing housing stock, create badly needed affordable rental housing, affordable homeownership and social facilities such as childcare and social infrastructure. In 2014 Dennis returned to Ottawa where he now acts as Senior Advisor to CCOC and Cahdco, helping to renew the existing housing stock, create new affordable rental and homeownership units, and mentor the next generation of social entrepreneurs.
Career highlights include facilitating the creation of the Alterna Community Alliance Housing Fund providing financing to affordable housing projects, and spearheading the creation of Cahdco, a development consultant to non-profit agencies creating affordable housing. Dennis also supported the inclusion of affordable housing in the City of Vancouver's 2010 Olympic bid, and was instrumental in the development of over 1,300 homes for CCOC.
Dennis is also a LEED Accredited Professional, and holds a Graduate Diploma in Community Economic Development, and sits on the City of Ottawa's Urban Panel Committee of Adjustment.
---
Leadership Award
To recognize an individual who has shown leadership in improving housing in Canada through program innovation, policy change, outreach and/or advocacy efforts.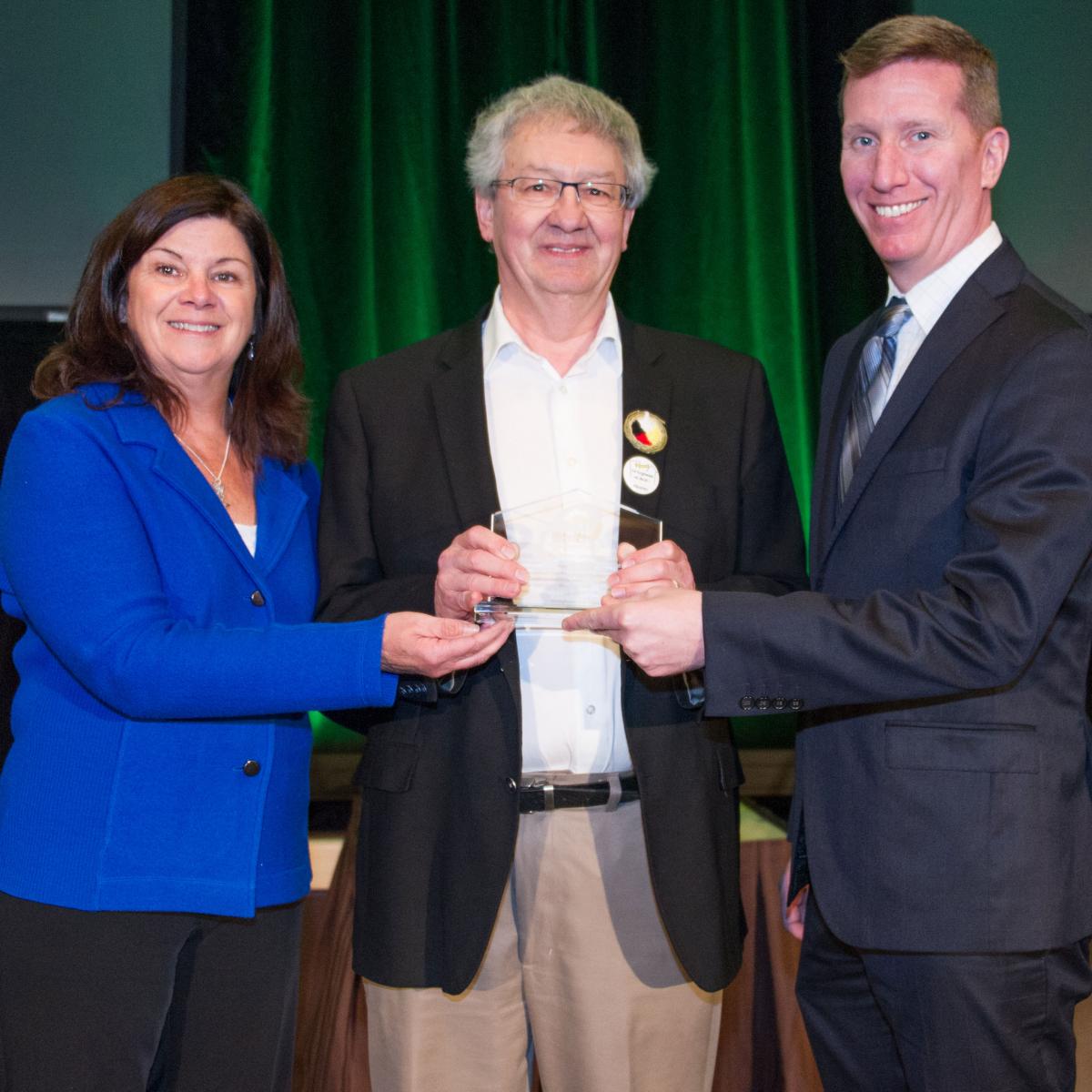 François Saillant
Coordonnateur, Front d'action populaire en réaménagement urbain (FRAPRU)
A graduate in journalism and information from the University of Laval in Quebec City, for the last thirty-seven years, François Saillant has been the coordinator and main spokesperson for Quebec's FRAPRU, the Front d'action populaire en réaménagement urbain. FRAPRU is a national association for the right to housing, active on urban development, the fight against poverty and social rights issues, and brings together 160 member organizations from across Quebec.
Through his work at FRAPRU, François has participated in numerous struggles to ensure the protection of the right to housing, particularly social housing. He has been active in the struggle against the federal government's withdrawal from social housing funding in the early 1990s, and is a strong advocate against the end of existing social housing subsidies, as well as a supporter of the creation of Quebec's AccèsLogis program. François has also been front and centre in many other urban and social struggles, including in solidarity with Canada's Indigenous peoples, particularly during the Oka Crisis.
François Saillant has written two books, La Régie du logement, après 25 ans, Un chien de garde efficace in 2006, and Le radical de velours recounts his journey as a militant in 2012.
François received the Rights and Freedoms Prize from the Quebec Human Rights and the Rights of Youth Commission in December 2002.
---
Community Builder Award
To recognize an individual, business or organization that has had a major impact at the community level in promoting affordable housing and/or preventing and ending homelessness.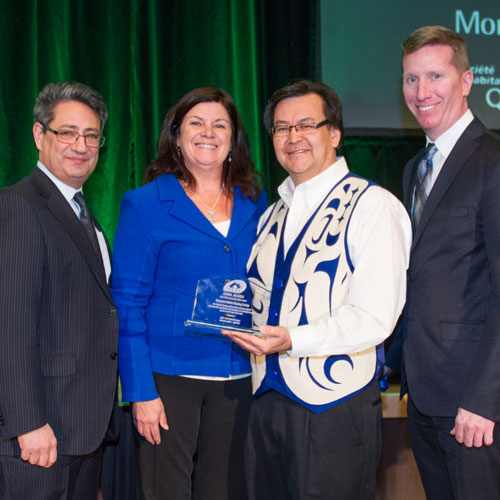 Vancouver Native Housing Society
Vancouver, British-Columbia
Created in 1984 Vancouver Native Housing Society (VNHS) is an Aboriginal housing provider employing over 90 staff and managing 822 units of safe, affordable housing in 18 buildings for Vancouver's Aboriginal population. The Society's original mandate of housing urban Aboriginal families and seniors has been broadened, and since 2009 its portfolio has increased by nearly 100 percent. VNHS now also provides supportive housing for Aboriginal and non-Aboriginal people who are homeless or at risk of homelessness, youth and women who are leaving abusive situations.
Kwayatsut (K-why-ah-sote) – from the Coast Salish language and meaning "seeking one's power" or "spirit quest" opened in 2014. Named by Squamish Chief Ian Campbell, Kwayatsut provides 69 apartments for formerly homeless adults and 30 for youth who are most vulnerable to homelessness, including Aboriginal, LGBTQ and youth transitioning from foster care.
With the introduction of Skwachàys Lodge Aboriginal Hotel and Gallery and its onsite residence for 24 Indigenous artists, VNHS has catapulted into the social enterprise fray. Championing a theme of "Community Building Through the Transformative Power of Art" the Society has garnered provincial, national and international acclaim.
VNHS's relationship with local Aboriginal artists encouraged their contribution to the Orwell Hotel Mural, a 7,600 square foot outdoor mural, the largest in Western Canada showcasing the important place Aboriginal people hold in Vancouver. The mural captures the community's hearts and minds as it portrays the vision of the urban Aboriginal community in many ways; a vision that draws upon the spirit of ancient tradition, the challenges of the past and the hopes and dreams for the future.
---
Sustainability Award
To recognize an organization, business or partnership that has undertaken a program, a new build or retrofit project that advances sustainable development, resource conservation or community renewal.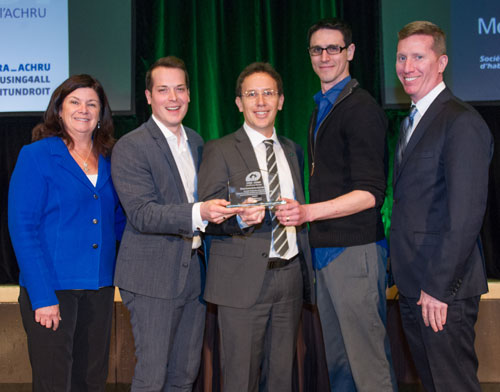 Ottawa Community Housing
Ottawa, Ontario
Ottawa Community Housing Corporation (OCH) is the largest social housing provider in Ottawa, managing two-thirds of the City's social housing portfolio, and is the second largest provider in Ontario. OCH has completed a sustainable building retrofit that has reduced water consumption by 40 percent in just three years, saving the municipally owned coporation $5,000,000 annually.
OCH's 'In Suite Green Retrofit' was accomplished by replacing 16,000 toilets, and installing low-flow shower heads and kitchen tap aerators in 15,000 homes. The program started with a pilot of 113 apartments, followed by a larger sample of 230 units, quickly expanding to the entire portfolio. Consuming less water means tenants are using less natural gas for heating water for showers, laundy and dishwashing, reducing greenhouse gases and OCH's carbon footprint.
During the retrofit, none of the old fictures went to landfill. The plastic and metal parts were recycled, and the porcelain from the toilets was crushed for use in road construction and clean fill; thereby reducing waste and consumption related to building costs.
Working together with communities, the conservation program actively engaged tenants on their role in conservation, raising tenant accountability and engagement. OCH presented program results at CHRA's Congress 2015 in Winnipeg, and since then calls have come in from across Canada from other municipalities and social housing providers looking for insights and lessons learned.
OCH provides and maintains approximately 15,000 homes to over 32,000 tenants, including seniors, parents, children, singles and persons with special needs across the City.The majority of the portfolio was constructed between 1950 to 1980. The most recent building was constructed in 2016.
---
CHRA-Rooftops Canada International Service Award
To recognize an individual or organization based in Canada for outstanding contribution to Rooftops Canada's programs and international development.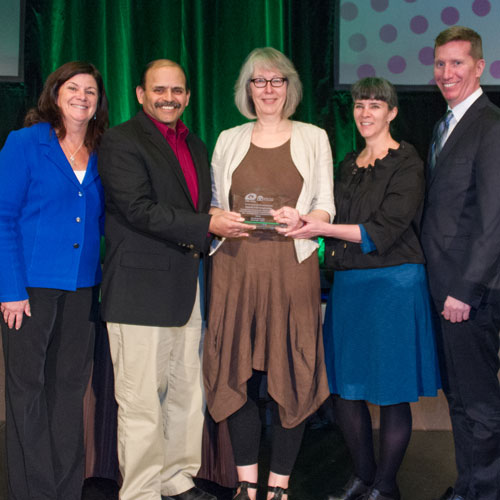 Ontario Non-Profit Housing Association
The Ontario Non-Profit Housing Association (ONPHA) is proud to be a founding member of Rooftops Canada, working with partner organizations to improve housing conditions, to build sustainable communities and to develop a shared vision of equitable global development. Rooftops Canada's focus is on disadvantaged communities in Africa, Asia, Latin America, the Caribbean and Eastern Europe, and since 1984, have been providing leadership, technical expertise, and engagement in low-cost housing and human settlement development around the world.
ONPHA has strongly supported the work of Rooftops Canada over the years, hosting international housing partners and sharing experiences on organizational structures, member services, financial sustainability, sector regulations and other issues. In turn, ONPHA members have participated in overseas study visits, and have returned home to champion Rooftops Canada's work. ONPHA has also supported the recruitment of technical advisors to provide specialized expertise to overseas providers, such as with financial assessments, and through African regional workshops on HIV/AIDS and housing.
Furthermore, ONPHA has established partnerships with the National Association of Social Housing Organizations in South Africa (NASHO), offering South African social housing institutions the opportunity to attend, fully supported, the ONPHA large providers' forum, as well as to train interns prior to their overseas placements with NASHO members in South Africa.
By hosting delegations, sharing information and resources, and encouraging ONPHA members to participate in study exchanges, ONPHA has leveraged the expertise, skills and passion of Ontario's non-profit housing sector to help strengthen housing communities across Africa. ONPHA is deeply committed to their partnership with Rooftops and to the creation of sustainable and equitable communities in Ontario and abroad.