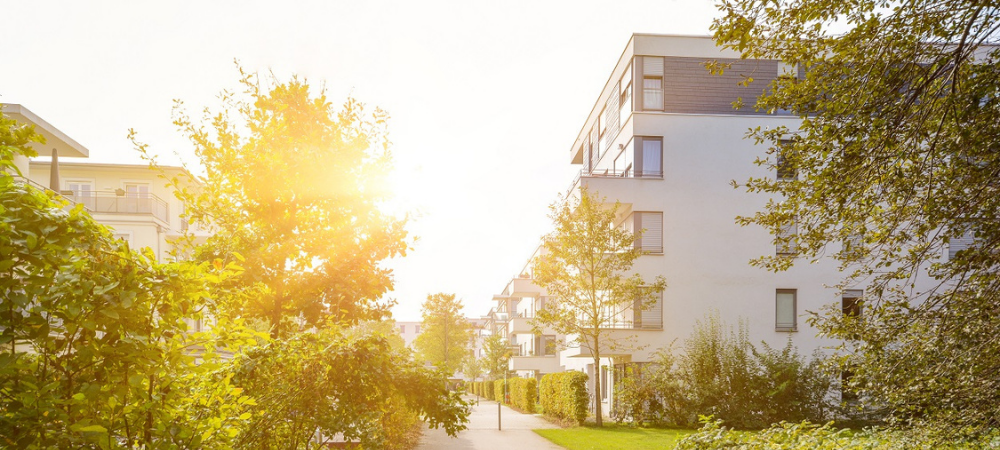 Canada's leading national initiative for sustainable affordable housing
Embarking on energy projects can feel daunting when you may not have the technical knowledge and are struggling to manage multiple priorities while also meeting your affordability mandate. But what if you could reduce energy and greenhouse gas (GHG) emissions, increase energy and housing affordability, all while improving building quality and increasing the comfort, health, and quality of life for your residents?
The Federation of Canadian Municipalities' (FCM) Sustainable Affordable Housing (SAH) initiative is here to help you switch to energy efficient upgrades faster while lowering your energy bills. The affordable housing sector has a key role to play in reducing greenhouse gas (GHG) emissions produced from its aging housing stock, and SAH offers a range of capacity development tools and funding to get you ready to retrofit existing affordable housing units or construct energy efficient new builds that emit lower GHG emissions.
Energy projects can provide multiple benefits to housing providers and their residents, including cost savings, reducing energy poverty, improving building quality, increasing resident health and comfort, and reducing GHG emissions.
Below you'll find a list of helpful resources—including information on SAH's Regional Energy Coaches, resource library, case studies, fact sheets and webinars —to support your project from any stage.
Regional Energy Coaches
FCM has teamed up with the Community Housing Transformation Centre, BC Non-Profit Housing Association, and the Co-operative Housing Federation of Canada to support this new initiative.
Regional Energy Coaches (REC) offer one-on-one coaching and support to affordable housing providers of any size with projects at any stage. They can help you plan and start energy-efficient retrofits and new construction while reducing energy and utility costs.
No matter where you are in your housing project, RECs may be able to offer a service that fits your needs! Check out this one pager with a detailed explanation on how you can get help from and how to contact a REC.
Resource Library
Access FCMs list of curated resources for affordable housing retrofit or new build projects organized by project stages: discovery; planning; study; pilot and capital projects; and operations and maintenance.
You'll learn more about:
the most effective and energy efficient methods to make buildings more sustainable
various operations and maintenance recommendations for efficient buildings
the steps required to begin the retrofit of an existing multi-unit residential building
how to select different energy efficient technologies for your housing project
energy efficient methods to make buildings more sustainable, and much more
Case Studies
Read about initiatives your peers have run using support from FCM's Green Municipal Fund (GMF). Their stories are inspiring.
Retrofit case studies
Raising the bar on community housing retrofits: Affordable housing project generates valuable lessons.
A municipally-owned social housing provider transforms a failing 50 year-old apartment tower with 146 units of affordable housing into a landmark building with state-of-the-art performance in energy, health, comfort and accessibility.
Energy retrofit delivers multiple benefits: Improved air quality and resident comfort
Long-term savings in utility costs fund the major energy-efficiency retrofit of seven community-housing buildings, improving indoor air quality and comfort for 1,500 residents.
This case study is also available to view as a video.
Brownfield redevelopment incorporates affordable housing: First redevelopment project in Canada to receive LEED Gold certification
An abandoned, century-old industrial facility in midtown Toronto is transformed into a vibrant, sustainable community hub that includes 26 units of affordable housing. Artscape Wychwood Barns is the first designated heritage site in Canada to achieve LEED® Gold certification.
New build case studies
New build achieves financial sustainability, social and environmental benefits
Thanks to extensive consultations, astute financial management and the incorporation of energy-saving technologies, a 67-unit development in Ontario's Niagara Region provides affordable housing for seniors and delivers environmental and social benefits without an ongoing operating subsidy.
This case study is also available to view as a video.
Consultation and innovation improves performance: Ottawa affordable housing project raises the bar on sustainability
Beaver Barracks is a two-phase construction project that provides 254 units of affordable housing and incorporates innovative sustainability features and technologies, such as geothermal heating and cooling, and a thermal-break system for balconies.
Fact Sheets
These five factsheets provide a "how to" for successful projects and outline the benefits they provide, from increased affordability to lower GHG emissions to better quality of life for residents. Whether you want to make your current buildings more efficient or begin design on a high-performance new build, these resources will provide key insights to help achieve your performance targets.
Energy Efficient Retrofit Fact Sheets
Why undertake energy-efficient retrofits 
Developing a business case for an energy-efficient retrofit
Energy Efficient New Build Fact Sheets
Planning high-performance affordable housing 
Why build high-performance affordable housing?
Webinars
Making affordable housing sustainable
Watch this webinar recording to learn about how the various forms of grant, loan and capacity building support offered by the Sustainable Affordable Housing initiative can help you retrofit existing units or build new ones. It includes a discussion on the many ways we can help during any stage of your project.
CHRA-FCM Webinar Series
FCM partnered with CHRA on a four-part webinar series to equip affordable housing providers with key tips and tools for deep energy retrofits.
Apply for GMF's Sustainable Affordable Housing funding: A presentation with the Canadian Housing and Renewal Association (CHRA)
Watch this joint webinar to learn how to apply for FCM's Sustainable Affordable Housing initiative. The initiative supports Canadian housing providers, including non-profits, co-ops and municipalities, in planning and delivering retrofit projects and new construction with significant energy efficiency measures.
Meeting Canada's net-zero energy targets while reducing energy poverty: Affordable Housing's role in solving this dual challenge
Watch this webinar to learn from successful case studies and gather tips and tools to help you take the first steps towards your next energy retrofit project.
Integrating Energy Conservation into Your Asset Management Practices with FCM's Green Municipal Fund
In this webinar, Edward Beckett, Asset Management Coordinator with the BC Non-Profit Housing Association and FCM's Regional Energy Coach for BC, shares three pathways to utilizing Asset Management to improve energy performance. The webinar also explores successful case studies from different regions to help inspire and inform your next steps in asset and energy management and share how FCM's SAH initiative can support you.
Getting Started: Preparing for your energy retrofit with a rock-solid plan
In this webinar, Irfaan Hasham, FCM's Regional Energy Coach from the Co-operative Housing Federation of Canada shares the tried-and-tested process to plan for your retrofit project. Lee Prevost from Boundary Design presents examples of successful plans to inspire you on your retrofit journey. FCM staff also share how the Sustainable Affordable Housing planning grants and capacity development tools can help make your retrofit project a reality.