National Congress on Housing and Homelessness
Join the Canadian Housing and Renewal Association at our 51st National Congress in Victoria, B.C. from April 2 – April 4, 2019 at the Victoria Conference Centre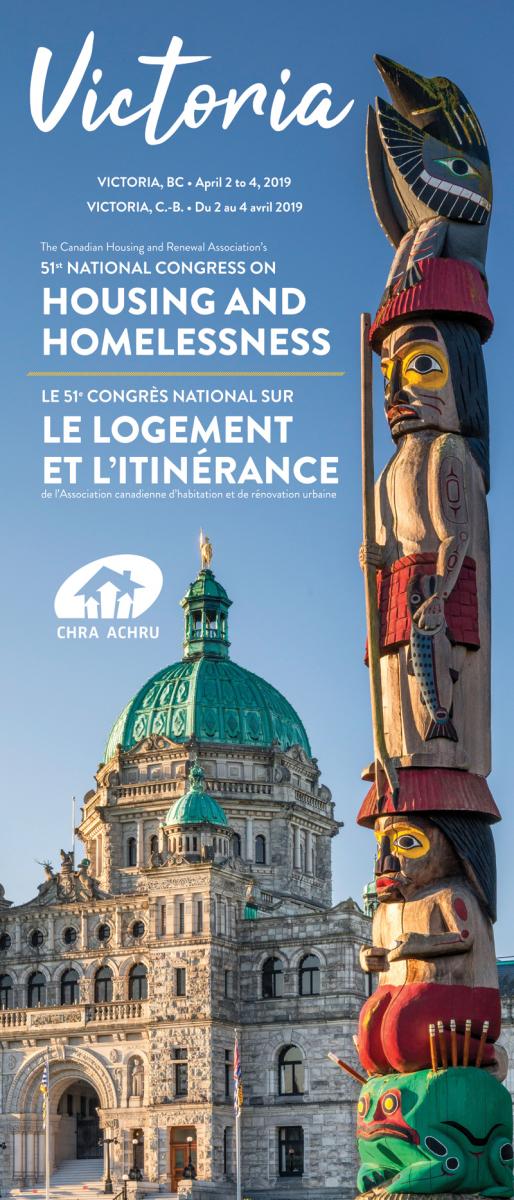 See full program (PDF).
The National Congress on Housing and Homelessness is an exceptional opportunity to gather, learn and network with a growing Canadian body of practitioners, policy makers, front-line workers, government officials and key stakeholders in our sector. The 2019 Congress, already in its 51st year, is expected to welcome over 550 delegates from across Canada and the United States.
Each year we develop a unique program with over 40 workshops, plenaries, learning sessions, mobile tours and keynotes to meet the educational needs and interests of our members and participants from across the non-profit, social and affordable housing and homelessness community.
A new partnership with BC Non-Profit Housing Association

This year, the BC Non-Profit Housing Association (BCNPHA) has partnered with CHRA to deliver RENT education sessions at Congress. Join RENT on April 3rd for a broad range of interactive educational sessions, where you can learn about using your strengths to help inspire and lead others; work through issues and challenges to help improve your tenant relations; hear about new national and provincial homelessness funding opportunities, and explore how to engage local elected officials to be part of the solution to our housing crisis. Subsidies are available for BCNPHA members. Please email membership@bcnpha.ca for more details.
About BCNPHA
As the provincial umbrella organization for the non-profit housing sector it is comprised of over 600 members, including non-profit housing societies, businesses, individuals, partners and stakeholders. Together, non-profit housing societies manage more than 65,000 units of long-term, affordable housing in over 2500 buildings across the province.

About RENT: Regional Education, Networking & Tradeshow
Throughout the year, BCNPHA hosts regional sessions around British Columbia for non-profit housing societies and other sector stakeholders.
These offer:
A full-day of quality housing education, filled with inspiring and thought-provoking speakers, engaging dialogue and hands-on learning.
Facilitated community development and in-depth exploration of regional issues.
Dedicated networking opportunities with other non-profits, private sector companies, and municipal and provincial leaders from your region.
Tradeshow exhibitions with the latest products and services available to non-profit housing societies designed to help you save money and become more efficient.
Thank you to our sponsors
We are grateful to the Songhees and Esquimalt Nations, on whose traditional territory the Canadian Housing and Renewal Association's 2019 Congress will be hosted.
Translation support for Congress 2019 has been provided by the Government of Canada.